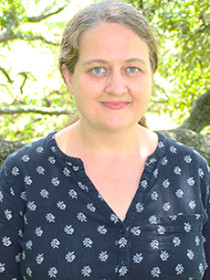 Holly
Donahue Singh
Associate Professor of Instruction, University of South Florida
Connect with Holly
About Holly
Singh's research focuses on the dynamics of family, fertility, and infertility in South Asia. Overarching themes in Singh's writings include how women navigate reproductive opportunities and barriers within their families and their cultural and structural environments. She also serves as a collaborator with local organizations focused on reproductive health and justice.
Publications
"
Love and Care at the Margins of Future Generations
" in
Across the Worlds of Islam: Muslim Identities, Beliefs, and Practices from Asia to America
, edited by
Edward E. Curtis IV
(
Columbia University Press, 2023
).
Examines reproductive experiences amidst marginalization of Muslims in contemporary India.
Infertility in a Crowded Country: Hiding Reproduction in India
(
Indiana University Press, 2022
).
Examines access to technology and treatments and to explore how pop culture shapes the reproductive paths of women and their supporters through clinical spaces, health camps, religious sites, & adoption agencies. Finds that women are willing to transgress social & religious boundaries to seek help.
"
Fertility Control: Reproductive Desires, Kin Work, and Women's Status in Contemporary India
"
Medical Anthropology Quarterly
31
, no.
1
(
2016
):
23-39
.
Reappraises the link between fertility & women's status by examining changing means & meanings of reproduction. Shows how reproductive technologies allow women to challenge power relations within their marital families & pursue stigmatized forms of reproduction. Also shows that reproductive technologies offer new ways for families to continue & extend old patterns of exerting control over women's reproductive potential.