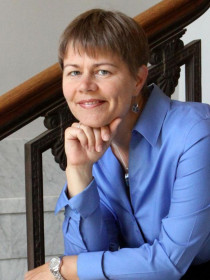 Irene
Bloemraad
Professor of Sociology, University of California-Berkeley
Connect with Irene
About Irene
Bloemraad's research examines the promise and challenges of reconciling contemporary immigration with democratic ideals of participation and equality. She studies both immigrants' political integration – as citizens, voters, protestors and engaged community members – as well as native-born citizens' reactions to immigration and diversity. Much of her research highlights the ways that social and public policy, around multiculturalism or the mitigation of economic inequality, eases tensions around diversity and democracy. In 2014-15, Bloemraad served as a member of the U.S. National Academy of Sciences' blue-ribbon panel reporting on the state of immigrant integration into U.S. society. She is Director of the Berkeley Interdisciplinary Migration Initiative and also a Scholar with the Canadian Institute for Advanced Research. She has held visiting research positions at the Institute on Migration and Ethnic Studies at the University of Amsterdam and the Department of Sociology at Trinity College, Dublin.
Contributions
Els de Graauw
Shannon Gleeson
Publications
"
Funding Immigrant Organizations: Suburban Free Riding and Local Civic Presence
" (with ).
American Journal of Sociology
119
, no.
1
(
2013
):
75-130
.
Identifies, through an examination of municipal public funding for community-based organizations that serve disadvantaged immigrants in four cities in the Bay Area region of Northern California, the phenomenon of suburban free-riding where suburban officials rely on central city resources to serve immigrants, but do not build and fund partnerships with immigrant organizations in their own jurisdictions.
"
Rights, Economics, or Family? Frame Resonance, Political Ideology, and the Immigrant Rights Movement
" (with ).
Social Forces
94
, no.
4
(
2016
):
1647-1674
.
Examines how potentially distinct "publics" or subgroups react, finding significant differences in frame resonance between groups distinguished by political ideology. Underscore the challenges confronting the immigrant movement and the need to reevaluate the assumption that historically progressive rights language is effective for immigrant claims-making.
"
'Utter Failure' or Unity out of Diversity? Debating and Evaluating Policies of Multiculturalism
" (with ).
International Migration Review
48
, no.
1
(
2014
):
292-334
.
Reviews the existing empirical literature and offer some new statistical analyses to assess what we know about the harm or benefits of multi- cultural policies, focusing on sociopolitical outcomes. Argues that multicultural policies appear to have some modest positive effects on sociopolitical integration for first-generation immigrants and likely little direct effect, positive or negative, on those in the second generation.
"
Being American / Becoming American: Birthright Citizenship and Immigrants' Membership in the United States
"
Studies in Law, Politics and Society
60
(
2013
):
55-84
.
Challenges universal birthright citizenship critics who contend that the practice flies in the face of liberal principles, in which both individuals and the state should consent to membership. Discusses how many immigrants equate "being American" with racial majority status, affluence and privilege and that membership through naturalization—the exemplar of citizenship by consent—does not overcome a lingering sense of outsider status.
"
Becoming a Citizen: Incorporating Immigrants and Refugees in the United States and Canada
" (
University of California Press, 2006
).
Argues that greater state support for immigrant settlement in Canada and an official government policy of multiculturalism increase citizenship acquisition and political participation among the foreign born. Discusses the problems the U.S. experiences incorporating newcomers into the polity and suggests how successful political incorporation is not just a question of the type of people that countries receive, but also fundamentally of the reception given to them.