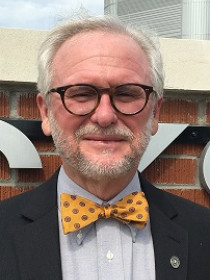 James
D.
Slack
Professor of Public Policy and Administration, Jackson State University
Connect with James
About James
Slack's research focuses on ethics and the intimate consequences of public policy, workplace discrimination and health/disabilities policy. He uses theocentric phenomenology to explore the intimate consequences of Life Policy and Death Policy in American society. Slack has been a consultant for public, nonprofit, and private organizations on public policy, legal and organizational issues relating to the workplace ramifications of HIV/AIDS, other disabilities, diversity practice, and basic personnel practices.
Contributions
Publications
HIV/AIDS and the Public Workplace: Local Government Preparedness in the 1990s
(
The University of Alabama Press, 1998
).
Studies the issues of reasonable accommodations and undue hardship as they apply to HIV/AIDS and the costs of managing the epidemic in the workplace particularly in local government workplaces. Examines legal constraints on ways of coping with HIV/AIDS in the workplace, management's attitudes toward seropositive job applicants and employees, and the the responsiveness by local governments to the epidemic in their workplace.
"
Executions as Social Policy
" in
Global Encyclopedia of Public Administration, Public Policy, and Governance
, edited by
Ali Farazmand
(
Springer, 2016
).
Discusses the popularity of capital punishment in an age where many assume it is a social policy that few nations embrace.
Local Government Information and Training Needs in the 21st Century
(with ) (
Quorum Books, 1994
).
Focuses on the training, education, and assistance needs of municipal governments as they prepare to face the challenges of the 21st century. Argues that an investment in training represents a commitment to the future of the municipal organization as well as the community itself.
"
Chronic Health Issues and the Public Workplace
" (with ), in
Public Personnel Management: Current Concerns, Future Challenges
, edited by
Norma M. Riccucci
(
Pearson, 2012
).
Discusses the consequences of poor health in the American workplace.
Abortion, Execution, and the Consequences of Taking Life
(
Transaction Publishers, 2014
).
Guides the reader through an in-depth examination of policy toward life and death in the United States. Uses theocentric phenomenology to focus on the intimate consequences of abortion and capital punishment. Intends to reconcile the truth found in the world with the truth found in scripture by studying the intimate consequences of murder, abortion, and capital punishment.
"
Barack Obama and the Public Administration of Faith
"
International Journal of Public Administration
32
, no.
9
(
2009
):
786-791
.
Discusses to what degree spiritual faith will play in President Obama's leadership and resulting public policies. Examines the President's inaugural address and takes a preliminary look at the White House Office of Faith-based and Neighborhood Partnerships.