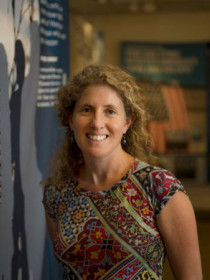 Jana
K.
Lipman
Associate Professor of History, Tulane University
Connect with Jana
About Jana
Lipman's research focuses on U.S. foreign relations, immigration, and refugee policy in 20th century America. For these projects, she has conducted extensive research in the United States, Cuba, Switzerland, the U.K., Malaysia, Hong Kong, and the Philippines. Lipman's research addresses themes related to refugee policy in the United States, labor and immigration, humanitarianism, and human rights. Lipman has also been an advisor to the Guantanamo Public Memory Project. In New Orleans, she serves on the Board of Louisiana Center for Children's Rights. 
Contributions
Publications
Ship of Fate: Memoir of a Vietnamese Repatriate
(edited with ) (
University of Hawai'i , 2017
).
Tells the remarkable story of a Vietnamese man who left Vietnam in 1975, only to return to reunite with his family who could not escape. Discusses how, as a result of his decision, he was imprisoned in a re-education camp for more than a decade. Reveals an unexpected story about Vietnamese refugees, loss, and post-war Vietnam. (Translated by Jana Lipman and Bac Haoi Tran)
"
A Refugee Camp in America: Fort Chaffee and Vietnamese and Cuban Refugees, 1975-1982
"
Journal of American Ethnic History
33
, no.
2
(
2014
):
57-87
.
Examines the creation of refugee camps in the United States on U.S. military bases in 1975 (after the Vietnam War) and in 1980 (after the Cuban Mariel boat lift). Demonstrates how and why the U.S. military converted bases into refugee camps and the consequences for both refugees and the U.S. military.
"
'The Fish Trusts the Water and It is in the Water that it is Cooked': The Caribbean Origins of the Krome Detention Center
"
Radical History Review, Special Issue on "Haiti and the World"
(
2013
).
Examines the history of detaining and deterring Haitian refugees from entering the United States. Looks at the origins of the Krome Detention Center in Florida, and argues that the current U.S. policy of detaining asylum seekers originated in the government's response to Haitian refugees in 1980 and 1981.
Guantánamo: A Working-Class History between Empire and Revolution
(
University of California Press, 2009
).
Shows the history of the U.S. naval base from the point of view of Cuban base workers. Analyzes U.S.-Cuban relations and the Cold War by examining the lives of base workers in Cuba and on the U.S. naval base. Discusses the ramifications for understanding both U.S. basing policies globally and the transformation of the U.S. naval base in Guantánamo Bay into an indefinite detention center.