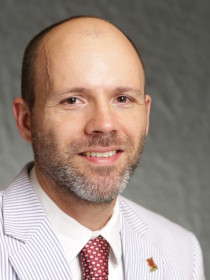 Jason
Stuart
Maloy
Professor and Kaliste Saloom Endowed Chair of Political Science, University of Louisiana at Lafayette
Connect with Jason
About Jason
Maloy's research investigates the linkage between democratic ideals and democratic institutions such as electoral systems, judicial systems, legislatures, and policy juries (a.k.a. citizen assemblies). Maloy's most recent book, Smarter Ballots (Palgrave Macmillan, 2019), offers a realist theory of election reform in the service of democratic accountability. Maloy's other recent projects include voting experiments to compare alternative types of ballot reform and cross-national comparisons of the impacts of varieties of democracy on policy outcomes such as war and peace, human rights, and ecological degradation.
In the News
Guest to discuss
election-night programing
on
KLFY-News
, Jason Stuart Maloy,
November 8, 2016
.
Publications
Smarter Ballots Electoral Realism and Reform
(
Palgrave Macmillan, 2019
).
Offers a comparative overview of elections research on the US, UK, Australia, Spain, Ireland, etc. Translates the results of academic research on elections worldwide for non-specialist scholars. Provides specific recommendations for electoral reform in response to the insights of electoral constructivism
"
Linkages of Electoral Accountability: Empirical Results and Methodological Lessons
"
Politics & Governance
2
, no.
2
(
2014
):
13-27
.
Reviews scholarly literature on both sides of the debate about whether periodic competitive elections can and do place effective sanctions in voters' hands to hold governments accountable, concluding that the growing trend of electoral skepticism has the better evidence and argument behind it.
Democratic Statecraft: Political Realism and Popular Power
(
Cambridge University Press, 2013
).
Explains how realistic theories of political power have been used to support democratic regimes, rather than oligarchic or autocratic systems, in five key episodes in the history of ideas, including the Populist movement in the United States in the 1880's and 90's.
"
Real Utopias in a Gilded Age: The Case of American Populism
"
New Political Science
34
(
2012
):
372-379
.
Describes the Populists' proposals for reforming American political and economic institutions in the 1880's and 90's, and compares them to proposals for "emancipatory" and "participatory" democracy around the world today.
"
The First Machiavellian Moment in America
"
American Journal of Political Science
55
(
2011
):
450-462
.
Analyzes debates over unicameralism and impeachment in the early Massachusetts colony (from 1630 to 1650) between pro- and anti-democratic factions of puritans, with the pro-democratic side borrowing ideas about popular accountability from the works of Niccolo Machiavelli.