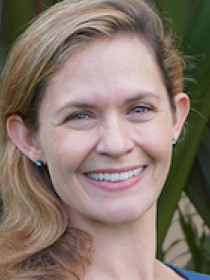 Jennifer
Darrah-Okike
Assistant Professor of Sociology, University of Hawaiʻi at Mānoa
Connect with Jennifer
About Jennifer
Darrah's research relates to housing policy, land-use policy, and political participation with focus on the impacts of voter identification requirements. She has studied how local communities in Hawaiʻi use laws and regulations to manage urbanization and preserve natural and cultural resources. She also studies housing policy and residential mobility to understand how policy can mitigate racial segregation and neighborhood disparities. New research explores policy responses to homelessness in Hawaiʻi. Finally, she studies political participation and the impacts of policies such as voter ID requirements with focus on impacts to racial and ethnic minorities and immigrants.   
In the News
Guest to discuss
Town Square: Panel on Planning, Community Involvement, and Oahu's Future
on
Hawai'i Public Radio
, Jennifer Darrah-Okike,
May 2015
.
Publications
"
The Suppressive Impacts of Voter Identification Requirements
" (with ).
Sociological Perspectives
(
2020
).
Examines the impact of voter identification laws on electoral participation in the US from 2000-2016, using large-scale social survey data. Shows that voter ID laws have a negative impact on all racial and ethnic groups, especially Latinos.
"
Disrupting the Growth Machine: Evidence from Hawaiʻi
"
Urban Affairs Review
(
2017
).
Reveals how local communities as well as advocates for natural resources and native Hawaiian rights leverage land-use regulations in Hawai'i to contest luxury residential development.
"
The Political and Community Context of Immigrant Naturalisation in the United States.
" (with ).
Journal of Ethnic and Migration Studies
38
, no.
4
(
2012
):
535-554
.
Uses microdata from Census 2000 in conjunction with other measures to examine aspects of the community and policy context that influence the choices made by individuals. The results confirm previous research on the effects of individual-level characteristics on attaining citizenship.
"
The Political Impact of the New Hispanic Second Generation
" (with ).
Journal of Ethnic and Migration Studies
35
, no.
7
(
2009
):
1201-1223
.
Shows that the effect of the rapid growth of the Hispanic population in the United States is diminished by several factors, and it is a challenge for public policy to reduce the lag between population growth and political representation.
"
The Suppressive Effects of Voter ID Requirements on Naturalization and Political Participation
," (with ),
Report of the American Communities Project, Brown University
,
2008
.
Finds that U.S. states that require voters to present identification before casting ballots have lower levels of political participation. Also shows that voter I.D. policies discourage legal immigrants from becoming citizens, particularly for blacks and Hispanics, reducing odds of naturalization by over 15 percent.