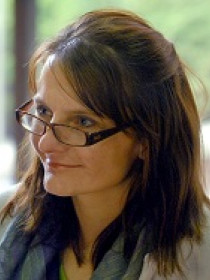 Jennifer
Kuzma
Goodnight-North Carolina GlaxoSmithKline Foundation Distinguished Professor of Social Sciences and Co-Director of the Genetics Engineering and Society Center, North Carolina State University
Connect with Jennifer
About Jennifer
Kuzma's work focuses on the interactions among science, technology and society, particularly the governance of emerging technologies. As a subset of this work, she is interested in public and stakeholder engagement in decision-making about emerging technologies, such as genetic engineering, nanotechnology and synthetic biology. Kuzma regularly works with science museums as a speaker and participant in their science cafes, public forums, and meetings on technology and society, and she serves as an adviser to several public agency groups. She also serves on the Food and Drug Administration's Blood Product's Advisory Committee.
Contributions
Publications
"
Hungry for Information: Public Attitudes toward Food Nanotechnology and Labeling
" (with ).
Review of Policy Research
(
forthcoming
).
Reports on public attitudes toward food nanotechnology and labeling in the United States. Was the first study in the U.S. to use dialogue-based research to discover what people think about different types of food nanotechnology products and how they would like to see them governed. Important theoretical contributions to risk perception of emerging technologies are also presented.
"
Nanotech Oversight, Voluntary Data Submission, and Corporate Social Performance: Does Company Size Matter?
" (with ).
Journal of Nanoparticle Research
13
, no.
4
(
2011
):
1499-1512
.
Takes a careful look at the participation of companies in a voluntary EPA program for nanotechnology governance. We took a close look at the quantity and quality of data submitted for assessing safety and discovered that older and larger companies participated more, and claimed less information as "confidential business information". We also review policies and programs that could help encourage companies to participation in voluntary governance programs as a part of corporate social performance.
"
Unpacking Synthetic Biology for Oversight Policy
" (with ).
Regulation & Governance
4
(
2010
):
92-112
.
Analyzes governance for synthetic biology and presents a new typology of products for thinking in more nuanced ways about our approach and values in oversight. Makes an argument for "unpacking" synthetic biology in such ways so that conversations about governance can move forward.
"
Evaluating Oversight Systems for Emerging Technologies: A Case Study of Genetically Engineered Organisms
" (with ).
Journal of Law Medicine and Ethics
37
, no.
4
(
2009
):
546-586
.
Uses a multi-criteria and stakeholder elicitation approach to evaluate the oversight system for genetically engineered organisms and draw lessons for emerging nanobiotechnology products. Describes a new and more holistic approach to evaluating oversight systems – one based not only on "scientific risk" and cost-benefit – named "integrated oversight assessment" as a subset of anticipatory governance.
"
Upstream Oversight Assessment for Agrifood Nanotechnology
" (with ).
Risk Analysis
28
, no.
4
(
2008
):
1081-1098
.
Uses a database and case-study approach to analyze potential future agrifood nanotechnology products, governance and policy issues. Describes "upstream oversight assessment" as a subset of anticipatory governance. Anticipatory governance and UOA are designed to prepare for, not predict, futures of technological governance.