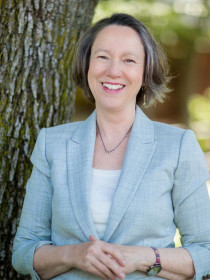 Julia
G.
Brody
Adjunct Assistant Professor of Pathology and Laboratory Medicine, Brown University School of Medicine
Executive Director, Silent Spring Institute
Connect with Julia
About Julia
Brody is a leader in research on breast cancer and the environment and in community-based research and public engagement in science. Her current research focuses on methods for reporting to people on their own exposures to hormone disruptors and other emerging contaminants when the health effects are uncertain. She also recently led a project connecting breast cancer advocacy and environmental justice in a study of household exposures to endocrine disruptors and air pollutants through a collaboration of Silent Spring Institute, Communities for a Better Environment (a California-based environmental justice organization), and researchers at Brown University and the University of California, Berkeley. Since 1996, Brody has been the principal investigator of the Cape Cod Breast Cancer and Environment Study, a case-control study of 2,100 women that includes testing for 89 endocrine disruptors in homes and historical exposure mapping. Brody's research is supported by the National Science Foundation, the National Institutes of Health, the New York Community Trust, and the Avon Foundation, among others.