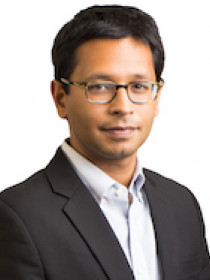 K. Sabeel
Rahman
Associate Professor of Law, Brooklyn Law School
About K. Sabeel
Rahman's research focuses on the themes of democracy, inequality, and power. His first book, Democracy Against Domination (Oxford University Press, 2017) examines how democratic ideals fueled reform movements in the Progressive Era, and what their implications might be in today's post-financial crisis debates about economic inequality. His current research extends this critique of economic power and domination to address questions about technology platforms, economic inequality, and the crisis of American democracy today.
Rahman has worked extensively with policymakers, funders, and advocacy groups in developing strategies and novel approaches to questions of democracy and economic inequality. In 2014-2015 he serves as a Special Advisor on strategies for inclusive economic development in New York City, and from 2015-2016 as a Public Member of the New York City Rent Guidelines Board. From 2013 to 2016, Rahman was the Design Director for the Gettysburg Project, an interdisciplinary initiative working with organizers, academics,  and funders to develop new strategies for civic engagement and building civic capacity. In addition,  Rahman is on the board of The New Press, a non-profit publisher focusing on publishing books in the public interest, and United to Protect Democracy, a legal advocacy group battling current threats to American democratic institutions.
Contributions
No Jargon Podcast
Publications
"
Policymaking as Power-Building
"
Southern California Interdisciplinary Law Journal
27
, no.
2
(
2017
).
Examines recent literatures and experiments in public law to develop an approach to power-balancing policy and institutional design.
Democracy Against Domination
(
Oxford University Press, 2017
).
Provides an account of how our public philosophy has forgotten important values of democracy and economic power, and what a more democratic approach to economic regulation might look like. Draws on the history of progressive political thought and engaging debates over post-financial crisis regulation.
"
Building Civic Capacity in an Era of Democratic Crisis
" (with ).
New America
(
2017
).
Discusses some of the central challenges and tensions seen, such as widening economic inequality, the persistence and increased virulence of racial and ethnic tensions, and the inability of existing political institutions to manage disputes and solve problems. Proposes some potential avenues for renewal and transformation.
"
Democracy and Productivity: The Glass-Steagall Act and the Shifting Discourse of Financial Regulation
"
Journal of Policy History
24
, no.
4
(
2012
).
Examines the discourse of banking reform around the Glass-Steagall Act of 1933. Discusses how the debate around the Act exemplifies a broader shift in discourses of financial regulatory reform, away from a previous era emphasizing the need to make concentrations of economic and political power democratically accountable, towards a new discourse grounding regulatory reform in the need to promote productive economic activity by preventing conflicts of interest and excess speculation.