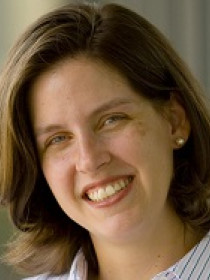 Katrina
Elisabeth
Bulkley
Professor of Educational Leadership, Montclair State University
Connect with Katrina
About Katrina
Bulkley studies educational policy issues and how changes in national, state, and local educational policy influences public schools and districts. She is particularly interested in how policies that seek to encourage "markets" in education and new organizations that provide education are changing public education, including policies that allow and promote the development of charter schools. Her research focuses on schools and districts in large urban areas, including Philadelphia, that enroll predominantly low-income students of color.
Contributions
In the News
Guest to discuss
education equity
on
The New Orleans Imperative: Quality Education for All Children
, Katrina Elisabeth Bulkley,
June 2010
.
Guest to discuss
the state of the American education system
on
EBRU TV Fresh Outlook
, Katrina Elisabeth Bulkley,
December 31, 1969
.
Publications
"
Local Politics and Portfolio Management Models: National Reform Ideas and Local Control
" (with ).
Peabody Journal of Education
(
forthcoming
).
Argues that urban school districts that are shifting to incorporate a variety of organizations managing schools are doing this based on a mix of internal and external pressures and organizations; examines the ways in which this trend challenges traditions of local school district control and more so in districts with less local capacity than in those with substantial local capacity.
"
Charter Schools
" (with ), in
Handbook of Research in Education Finance and Policy: Second Edition
, edited by
Helen Ladd and Margaret Goertz
(
Lawrence Erlbaum, 2014
).
Argues that wide variation across charter schools and states makes it difficult to draw broad conclusions about charter schools as a group or charter school policies; presents evidence that suggests limited development of innovative educational practices or improvements in student achievement, while specific charter schools and charter management organizations are showing more promise.
Between Public and Private: Politics, Governance, and the New Portfolio Models for Urban School Reform
(with ) (
Harvard Education Press, 2010
).
Discusses how large, predominantly urban school districts are increasingly adopting a Portfolio Management Model (PMM), which shifts the role of the district away from running schools and towards managing schools run by other organizations or autonomous schools managed by those working in the building; notes the little available research which has examined these major changes, raising questions about the design of PMMs, the capacity of local actors to create strong schools, and the ability of district central offices to oversee schools in a very different way.
"
Benchmarks for Success? Interim Assessments as a Strategy for Educational Improvement
" (with ).
Peabody Journal of Education
85
, no.
2
(
2010
):
106-204
.
Examines the development of interim assessments, or common assessments used at regular intervals across multiple schools in Philadelphia, the expectations district leaders had for the use of those Benchmarks, the supports put in place to assist those in schools in meeting those expectations, and the challenges encountered in that implementation.