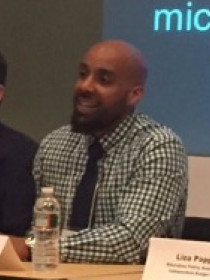 Keith
Eric
Benson
President, Camden Education Association; Educator, Camden City School District
Connect with Keith
About Keith
Benson has taught in Camden City public schools for fourteen years prior to being elected to the presidency of the Camden Education Association and is primarily interested in topics related to urban schooling and critical pedagogies, urban education reform policy, and school choice within contemporary urban redevelopment. Further, within a standpoint theory framework, he is also very interested in eliciting and highlighting the voices of forgotten urban community members impacted by both urban redevelopment and the education reforms that accompany it.
Contributions
In the News
"
Gentrification Threatening Beloved Camden and Oakland High Schools
," Keith Eric Benson (with ), Interview with
Kitty Kelly Epstein
,
Education Today
,
November 11, 2016
.
Publications
"
Better for Whom? Current and Prospective Camden Resident's Perspectives on State-Imposed Renaissance Charter Schools and Recent Camden Redevelopment
,"
Rutgers University, Graduate School of Education
,
2016
.
Seeks to better understand and highlight the views of prospective and current Camden residents' views of state-imposed charter schools proliferating throughout the city during a time of simultaneous redevelop efforts.
"
It's the Worst Place to Live: Urban Youth and the Challenge of School-Based Civic Learning
" (with ).
Theory Into Practice
48
, no.
3
(
2009
):
213-221
.
Addressed the challenges and opportunities to trying to engage urban students, whose neighborhoods have largely been abandoned by government institutions, to become more civically engaged.