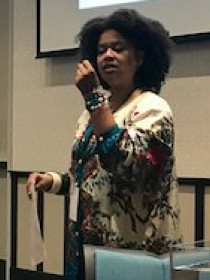 Kimya
Nuru
Dennis
Educator, Trainer, Evaluator, and Researcher, 365 Diversity, LLC
Connect with Kimya
About Kimya
Dr. Kimya Nuru Dennis is founder and owner of 365 Diversity, LLC; and multidisciplinary and interdisciplinary educator, trainer, evaluator, and researcher specializing in demographic-and-cultural consciousness. 
365 Diversity, LLC increases demographic-and-cultural consciousness and reduces demographic-and cultural disparities and injustices. 365 Diversity, LLC provides results-based training, workshops, evaluations, and assessments for local, national, and international K-12 schools, colleges and universities, businesses, non-profit organizations, for-profit organizations, legal-crime-penal systems, and medical-health systems. 365 Diversity, LLC reaches leaders and decision makers capable of making measurable and lasting changes. 
No Jargon Podcast
Publications
"
Black Male Suicide: Inward Expressions of Social Status and Status Frustration
" in
Handbook of Research on Black Males
, edited by
Theodore Ransaw, Charles Gause, and Richard Majors
(
Michigan State University Press, forthcoming
).
Explores the nuanced and multifaceted phenomena known as the Black male. Provides a comprehensive tool that can serve as a resource to articulate and argue for policy change. Suggests educational improvements and judicial reform.
"
Need for Understanding between Civilian CIT Trainers and Law Enforcement CIT Trainees
,"
NC CIT State Advisory Committee
,
December 2014
.
Discusses interviews of eleven law enforcement representatives who have undergone CIT (mental health) training. Emphasizes increased awareness of the needs of mental health consumers and improving the relationship between consumers and law enforcement.
"
Being Black, a Woman, and Childfree: The Intersection of Race and Gender
,"
Association of Black Sociologists
,
October 2014
.
Discusses the preliminary findings of ongoing study of childfree people of the African diaspora. Interviews have been conducted on 54 childfree women of the African diaspora and 3 childfree men of the African diaspora in the U.S.A., Africa, and Europe.