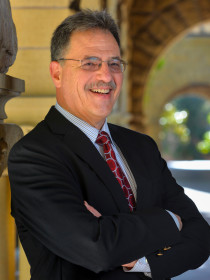 Larry
J.
Diamond
Senior Fellow, Hoover Institution, and Director, Center for Democracy, Development, and the Rule of Law, Stanford University
Connect with Larry
About Larry
Diamond is a senior fellow at the Hoover Institution and at the Freeman Spogli Institute for International Studies, where he also directs the Center for Democracy, Development, and the Rule of Law.  He is the founding co-editor of the Journal of Democracy and also serves as Senior Consultant (and previously was co-director) at the International Forum for Democratic Studies of the National Endowment for Democracy.   During 2002–3, he served as a consultant to the U.S. Agency for International Development (USAID) and was a contributing author of its report Foreign Aid in the National Interest. He has also advised and lectured to the World Bank, the United Nations, the State Department, and other governmental and nongovernmental agencies dealing with governance and development. 

At Stanford University, Diamond is also professor by courtesy of political science and sociology.  He teaches courses on comparative democratic development and post-conflict democracy building, and advises many Stanford students. In May 2007, he was named "Teacher of the Year" by the Associated Students of Stanford University for teaching that "transcends political and ideological barriers." At the June 2007 Commencement ceremony, Diamond was honored by Stanford University with the Dinkelspiel Award for Distinctive Contributions to Undergraduate Education. He was cited, inter alia, for fostering dialogue between Jewish and Muslim students; for "his inspired teaching and commitment to undergraduate education; for the example he sets as a scholar and public intellectual, sharing his passion for democratization, peaceful transitions, and the idea that each of us can contribute to making the world a better place; and for helping make Stanford an ideal place for undergraduates."
 
Publications
The Spirit of Democracy
(
Henry Holt and Company , 2008
).
Charts the future prospects for freedom around the world in the aftermath of Iraq and deepening authoritarianism.
Squandered Victory: The American Occupation and the Bungled Effort to Bring Democracy to Iraq
(
Times Books, 2005
).
Delivers the first insider's account of the U.S. occupation of Iraq-a sobering and critical assessment of America's effort to implant democracy.
Islam and Democracy in the Middle East
(
Journal of Democracy, 2003
).
Provides a comprehensive assessment of the origins and staying power of Middle East autocracies, as well as a sober account of the struggles of state reformers and opposition forces to promote civil liberties, competitive elections, and a pluralistic vision of Islam.
Developing Democracy: Toward Consolidation
(
JHU Press, 1999
).
Sets forth a distinctive theoretical perspective on democratic evolution and consolidation in the late twentieth century. Rejecting theories that posit preconditions for democracy—and thus dismiss its prospects in poor countries—Diamond argues instead for a "developmental" theory of democracy. This, he explains, is one which views democracy everywhere as a work in progress that emerges piecemeal, at different rates, in different ways and forms, in different countries.