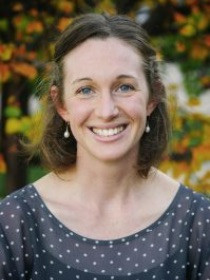 Laura
Hanson
Schlachter
Researcher, University of Wisconsin-Madison
Connect with Laura
About Laura
Schlachter asks sociological questions about how to make our economy more inclusive and move our society to rise to the challenge of the climate crisis. Her mixed-methods research examines the relationship between resistance and building in movements for economic democracy and climate justice. Schlachter has been active with Madison-area nonprofits working on economic equity, climate justice, and elections integrity in a volunteer capacity since 2013, including a term as co-coordinator of 350 Madison from 2014-16. Her research has been generously funded by the National Science Foundation and the AmeriCorps Office of Research and Evaluation.
Contributions
Publications
"
White Paper: Preliminary Analysis of the Worker Co-op Census Data
,"
The Democracy at Work Institute
,
November 1, 2017
.
Summarizes key findings from preliminary analysis of the first national, individual-level survey of cooperative employees and worker-owners. Includes 1,147 individuals from 82 worker cooperatives across the United States who participated in a survey fielded in spring 2017.
"
Stronger Together? The USW-Mondragon Union Co-op Model
"
Labor Studies Journal
42
, no.
2
(
2017
):
124-147
.
Synthesizes six possibilities and dilemmas of union involvement in worker cooperative formation and argue that these considerations should structure the future debate.
"
Social Entrepreneurship and Civic Ties in the Economy of Compassion
,"
Society for the Advancement of Socio-Economics
,
June 25, 2016
.
Argues that social enterprise incubators play a critical gatekeeping role in the social economy and shape how movement goals are enacted in the market. Draws on ethnographic fieldwork and interviews conducted June 2014 to April 2016.
"
The USW-Mondragon Union Co-op Model: Creating an Economy that Works for All?
,"
Louis O. Kelso Workshop, Rutgers School of Management and Labor Relations Beyster Fellowship Program
,
January 2013
.
Analyzes the possibilities and dilemmas of union involvement in democratic worker-owned firms through a case study of a union co-op initiative in Cincinnati, OH conducted November 2013 to April 2016.