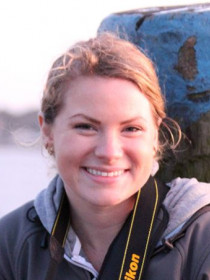 Mackenzie
Dale
Mazur
Postdoctoral Research Associate, Gulf of Maine Research Institute
About Mackenzie
Mazur's research focuses on fisheries science and management. Mazur's overarching themes in writings include fisheries, fisheries modelling, fisheries management, conservation, and fish population dynamics. Mazur more specifically, uses computer simulations to evaluate management regulations in New England fisheries. Mazur's other areas of expertise also include fisheries stock assessment, habitat modelling, and oral history interviews. Mazur is the president of the American Fisheries Society Socioeconomics Section, and serves on the Ocean Best Practices Ethics Working Group and the Gulf of Maine Research Institute Science Seminar Committee.
Contributions
In the News
Mackenzie Dale Mazur
's research on
lobster fisheries experiencing changing water temperatures, lower proportions of V-notched female lobsters, and high fishing efforts
discussed by ,
"What Might Maine's Lobster Fishery Look Like In The Future?,"
Main Lobstermen's Community Alliance
,
April 5, 2017
.
Publications
"
Contributions of a Conservation Measure That Protects the Spawning Stock to Drastic Increases in the Gulf of Maine American Lobster Fishery
" (with ).
Marine Ecology Progress Series
631
(
2019
):
:127-139
.
Discussing V-notching, a conservation measure intended for the protection of mature female lobsters, which has been hypothesized to have contributed to the dramatic increase in American lobster Homarus americanus landings and stock biomass in the Gulf of Maine. Evaluates the impact of this conservation measure, along with scenarios examining different v-notching compliance rates and v-notch definitions which were simulated using an individual-based lobster simulator with different recruitment dynamics scenarios.