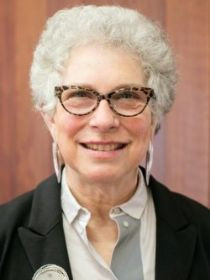 Margaret
Levi
Sara Miller McCune Director, Center for Advanced Study in the Behavioral Sciences, and Professor of Political Science, Stanford University
Connect with Margaret
About Margaret
Levi's current research focuses on the conditions under which people come to believe their governments are legitimate and the consequences of those beliefs for compliance, consent, and the rule of law; and how organizations provoke member willingness to act beyond material interest. She is also working on a range of issues having to do with labor unions and with global justice campaigns. She has been actively engaged with such organizations as the World Justice Project; World Bank; Just Supply Chains network; Jobs with Justice ; and the now-defunct Scholars, Artists, and Writers for Social Justice (SAWSJ).
Contributions
Publications
In the Interest of Others: Leaders, Governance, and Political Activism in Membership Organizations
(with ) (
Princeton University Press, 2013
).
Investigates labor unions in America and Australia to show how activist organizations can profoundly transform the views of members about their political efficacy and the collective actions they are willing to contemplate.
"
After Eden: The Transformation of the Landscape of Political Power in the United States
" in
Anxieties of Democracy
, edited by
Ira Katznelson and Partha Chatterjee
(
Oxford University Press, 2012
).
Studies the importance of labor unions and other organizations representing collective voice for a functioning democracy.
"
Legitimating Beliefs: Concepts and Measurements
" (with ).
Regulation and Governance
3
(
December 2009
):
311-333
.
Explains how to create a virtuous circle, in which government demonstrably provides goods and services in developing countries that citizens want, evoking higher compliance from citizens in regards to taxes and laws, thus enabling government to provide more.
Cooperation without Trust?
(with ) (
Russell Sage Foundation, 2005
).
Employs a wide range of examples illustrating how parties use mechanisms other than trust to secure cooperation; Levi's contributions focus on how to construct relations of trust among citizens and their governors and among workers and their employers.