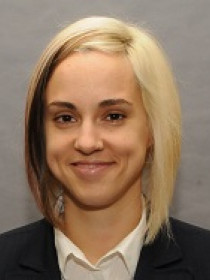 Marija
Bingulac
Researcher, Center for Social Policy and PhD Candidate in Public Policy, University of Massachusetts Boston
Connect with Marija
About Marija
Bingulac's areas of expertise include Roma issues, politics of poverty, patterns of exclusion, political science, public policy, research design, and monitoring and evaluation. Her current research focuses on measuring labor-market discrimination faced by Roma people in Serbia and understanding their experiences when they attempt to engage in labor markets. Bingulac holds a researcher position at the Center for Social Policy, where she works on participatory research projects related to poverty alleviation and housing stability. She is a permanent research consultant to two Roma-serving anti-poverty non-governmental organizations in Serbia – Church World Service Eastern Europe and Center ALFA. In these consultancy roles, she has worked on many evaluation projects in the areas of inclusive education, food security, and sustainable economic development. She also teaches several political science courses, including American politics, state and local politics, and research methods for international relations.
Publications
"
Research for 'On Solid Ground: Building Opportunity, Preventing Homelessness Report'
," (with ),
Center for Social Policy with Mass Budget and Policy Center
,
forthcoming
.
Presents the many factors that contribute to family instability; identifies the gaps in programs meant to serve low income families; documents the role of federal and state rental subsidy programs; demonstrates the interconnected roles of rental assistance, childcare and employment assistance in increasing family incomes; incorporates the feedback of focus groups representing various stakeholders; and makes policy recommendations to help the Commonwealth reduce family homelessness by addressing its underlying contributors.
"
Children and Homelessness in Massachusetts
" (with ).
New England Journal of Public Policy
25
, no.
1
(
2013
).
Presents the extent of child homelessness and its profound effects on Massachusetts children and families and examines the interconnectedness of what are usually thought of as separate public policy domains – poverty, hunger, homeless, low-wage work, and access to public work supports.