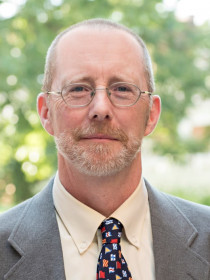 Mark
Rush
Waxberg Professor of Politics and Law; and Director, Center for International Education, Washington and Lee University
Connect with Mark
About Mark
Rush's research focuses on democracy, voting rights, and constitutional law around the world. Overarching themes in Rush's work address how globalization, modernization, and technological change force us to reconsider how we think about: democracy, fair elections, representation, human rights, the interaction between science and law, and liberal education and liberal democracy.
Rush has served in numerous capacities as a faculty and administrator in universities in the United States and overseas (United Arab Emirates), editorial/advisory boards (currently Election Law Journal, Higher Education Asia and the Middle East Series), and, most recently, study abroad advisory boards (IESAbroad). He was inducted into the ODK national service fraternity in 2014, has served on local chapters/boards of organizations such as Habitat for Humanity, 50 Ays Rockbridge (redistricting reform) and US Swimming.
In addition, Rush writes extensively for and serves on the editorial board of majorleaguefantasysports.com
Contributions
Publications
"
Property Rights and Democratic Market Failure: A New Case for Judicial Activism?
"
Washington and Lee Law Review 73: 477-87 (2016).
73
(
2016
):
477-87
.
Analyzes how new market pressures are transforming property rights in the United States. Creates the groundwork for a current work on the growing tension among religious freedom, property rights, free markets and equality rights.
"
Shelby County v. Holder: A Case of Judicial Hubris or a Clash of Ancient Principles?
"
Election Law Journal: Rules, Politics, and Policy
12
(
2013
):
322-323
.
Reviews the Shelby County v. Holder decision in which the Supreme Court declared section 4 of the Voting Rights Act unconstitutional. Shows that the decision made perfect sense insofar as section 4 was grounded in data that was some 50 years old. Considers that in the contemporary political climate, it guaranteed that the Voting Rights Act would be weakened due to partisan polarization and the inability of Congress to review and update the Act's provisions.
"
The American Vision of Liberal Education and the Challenges of Globalization: An Exploratory Vision
" (with ), in
Western Higher Education in Asia and the Middle East. Lanham, MD. Rowman & Littlefield. 2016
, edited by
Kevin Gray, Hassan Bashir, and Stephen Keck
(
Lexington Books, 2016
),
103-118
.
Analyzes the challenge confronting American higher education's liberal foundation as universities expand overseas and welcome international students. Reveals how, as liberal education seeks to expand around the world, must adapt and sometimes qualify its principles in order to engage illiberal cultures. Explores how this creates tensions with home campuses and forces American universities to engage in critical introspection.