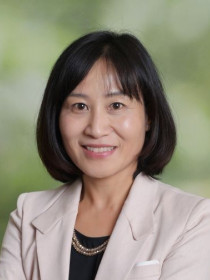 Mikyung
Kim
Wolf
Researcher at the Center for Language Education and Assessment, Educational Testing Service
Connect with Mikyung
About Mikyung
Wolf's research focuses on technology-enhanced language assessments, alignment among standards, assessments and curricula/instruction, formative assessment, and validity issues in assessing K-12 English language learners in the U.S. as well as in global contexts. Overarching themes in Wolf's writings include the development of sound assessment tools and appropriate use of those tools to serve English language learners and their educators. Wolf has served on the International Language Testing Association (ILTA) executive board (2019-2020) and is a founding member of the ILTA Language Assessments for Young Learners SIG. She is also an associate editor of Language Assessment Quarterly.
Contributions
Alison Bailey

Laura Ballard
Publications
"
Alignment as a Fundamental Validity Issue in Standards-Based K-12 English Language Proficiency Assessments
" in
Another Generation of Fundamental Considerations in Language Assessment
, edited by
Gary J. Ockey and Brent A. Green
(
Springer, 2020
),
95-111
.
Discusses how Bachman and Palmer's Assessment Use Argument framework helps us integrate an expanded view of alignment by reinforcing consideration of the consequences of assessment uses in validity. Mentions a range of pressing areas of research on alignment evaluation for K-12 ELP assessments is also discussed.
Assessing English Language Proficiency in U.S. K–12 Schools
(
Routledge, 2020
).
Addresses a variety of key issues involved in the development and use of those assessments: defining an ELP construct driven by new academic content and ELP standards, using technology for K–12 ELP assessments, addressing the needs of various English learner (EL) students taking the assessments, connecting assessment with teaching and learning, and substantiating validity claims.
"
Young Adolescent EFL Students' Writing Skill Development: Insights From Assessment Data
" (with ).
Language Assessment Quarterly
15
, no.
4
(
2018
):
311-329
.
Performs a detailed analysis of student essays to identify possible patterns in the development of young adolescent EFL students' academic writing ability. Explores how linguistic characteristics, such as lexical, syntactic, and discourse features, as well as organizational and content features specific to the argumentative writing genre, were examined by using automated writing evaluation tools and human ratings.
English Language Proficiency Assessments for Young Learners
(edited with ) (
Routledge, 2017
).
Illustrates rigorous processes of developing and validating assessments with considerations of young learners' unique characteristics. Defines school-age children from approximately 5 to 13 years old, learning English as a foreign language (EFL) or a second language (ESL).