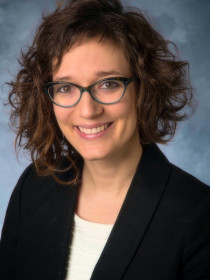 Natalie
Fixmer-Oraiz
Associate Professor of Communication Studies and Gender, Women's and Sexuality Studies, University of Iowa
About Natalie
Fixmer-Oraiz's research focuses on rhetoric and cultural studies, reproductive politics, and feminism. Fixmer-Oraiz's overarching themes in writing include the communicative dimensions of reproductive violence, intersectional feminist struggles for reproductive justice, and the politics and possibilities of queering kin. Fixmer-Oraiz currently co-directs a working group on Reproductive Justice with Lina-Maria Murillo, serves on the board for Planned Parenthood Advocates of Iowa, and is involved with various local initiatives for racial justice and LBGTQ+ rights.
Contributions
In the News
Natalie Fixmer-Oraiz
quoted on
sex, the body, pop culture and careers
,
"She and Her"
Apple Podcast
,
July 17, 2020
.
Publications
Motherhood and Motherland in Contemporary America US Security Culture and the New Reproductive Regime
(
University of Illinois Press, 2020
).
Traces the recent history of US reproductive politics as they have been reshaped within a post-9/11 homeland security state. Focuses on everyday public discourses that normalize surveillance, render individuals exclusively responsible for risk, and which have fundamentally altered the conditions under which pregnant and parenting people make reproductive and childbearing decisions.
Gendered Lives
(with ) (
Cengage, 2019
).
Provides an introduction to the field of gender, communication, and culture for undergraduate students.