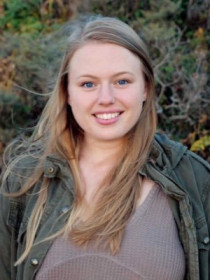 Natalie
Veldhouse
Graduate Research Assistant and Master of Social Work Candidate, University of Iowa
About Natalie
Veldhouse's research interests involve poverty, morality, social policy, and community development. She is interested in how research on morality can inform community organizing and advocacy practice. She coordinated research efforts assessing the state of food insecurity in Iowa City and surrounding communities for the Johnson County Hunger Task Force. She also worked as a school social work intern at a local alternative high school and currently works as a research assistant for the University of Iowa's College of Public Health.
Publications
"
Johnson County Hunger Task Force Report
," (with ),
Johnson County Social Services
,
2016
.
Discusses the state of food insecurity in Johnson County, Iowa based on food pantry client surveys, focus groups, and key informant interviews. Findings indicate that 81% of food pantry client spend more than half of their monthly income on housing, only 48% receive SNAP benefits, and 58% get half or more of their total food from food pantries.