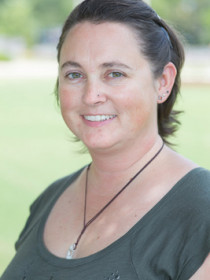 Peggy
R.
Biga
Assistant Professor of Biology, University of Alabama at Birmingham
Connect with Peggy
About Peggy
Biga's research focuses on understanding the mechanisms regulating organismal growth, with a particular interest in skeletal muscle growth and metabolism. Currently, Biga's research is centered on understanding how environmental factors, like nutritional input, affect muscle-specific gene pathways. Biga's lab utilizes genetics, genomics, biochemical, and physiological approaches to reveal mechanisms of interactions between dietary nutrients, molecular pathways, and phenotypic output. One major aim of this work is to decipher the maternal and epigenetic effects of diet on offspring phenotype and performance. In addition, Biga's lab is examining local endocrine action in regulating muscle metabolism and function across the lifespan, as well an in genetic muscular disease, such as Duchenne muscular dystrophy.

Overarching themes in Biga's writings include peer-reviewed manuscripts detailing epigenetic regulation of growth, endocrine control of muscle growth, and endocrine regulation of stress and growth. 
Biga serves on the Mayor Woodfin Education and Workforce Training Committee. Biga recently served on the Executive Board of Southside Ball Association, a youth sports program for inner city kids, as Communication Officer and then Vice President. Biga is an active member and volunteer with the PTA at Phillips Academy a public magnet, International Baccalaureate K-8 school in Birmingham, AL.

Biga directs a science mentorship program that puts graduate and undergraduate students from UAB in science classrooms in Birmingham inner city public K-8 schools to enhance science literacy and achievement in minority students. UAB students receive credit for mentoring while K-8 students and their teachers engage in hands-on science activities and science fair project mentoring. This program also works closely with the Freedom Rains Academy, a local woman's shelter school academy).