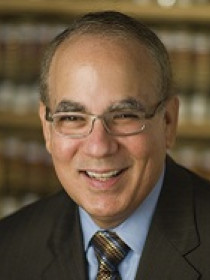 Peter
M.
Shane
Jacob E. Davis and Jacob E. Davis II Chair in Law, The Ohio State University
Connect with Peter
About Peter
Shane is an expert in constitutional and administrative law (with special focus on separation of powers, federalism, and equality), as well as policy at the intersection of law, public policy, and media. He has written extensively on governmental uses of new media to engage the general citizenry in public policy making, and has been a consultant to the FCC on its use of new media, as well as its assessment of the contemporary U.S. media landscape. His current major work-in-progress examines U.S. public policy towards the various elements of what he calls "the informational infrastructure of U.S. democracy" – schools, universities, radio spectrum, libraries, journalism, and practices of civic engagement.
No Jargon Podcast
Publications
"
Informing Communities: Strengthening Democracy in the Digital Age – Final Report of the Knight Commission on the Information Needs of Communities in a Democracy
,"
Lead Drafter
,
Aspen Institute
,
2009
.
Argues for urgent action on a variety of fronts to help meet the news and information needs of local communities. Key objectives are maximizing the availability of relevant and credible information, enhancing the information capacity of individuals, and promoting citizens' engagement with information and with one another.
"
Cybersecurity Policy as if 'Ordinary Citizens' Mattered: The Case for Public Participation in Cyber Policy Making
"
I/S: A Journal of Law and Policy for the Information Society
8
, no.
2
(
2012
):
433-462
.
Argues that the importance and obscurity of the federal government's current policy making regarding cyber security should motivate a concentrated effort to engage the general public more directly in making the relevant tradeoffs. Recommends a national commission on cyber security, and lays out a plan for such a commission to initiate inclusive public deliberations on critical policy issues entailed in securing U.S. cyber systems.
Connecting Democracy: Online Consultation and the Flow of Political Communication
(edited with ) (
MIT Press, 2012
).
Assesses the potential for using online government-sponsored public consultations to deepen democratic practice. Chapters authored by Peter Shane provide a preliminary assessment of the Obama Administration's early "participatory government" initiatives and a survey of legal issues governments will likely confront in initiating ambitious forms of online public consultation.
Madison's Nightmare: How Executive Power Threatens American Democracy
(
University of Chicago Press, 2009
).
Argues that the Madisonian system of checks and balances is being subverted by unsupportable executive branch claims of inherent presidential authority beyond Congress's oversight powers or the courts' powers of judicial review. Concludes that situation is unlikely to improve without changes in the larger social and political context that incentivize both President and Congress to be more accountable to the full range of interests and perspectives among the constituents they represent.
"
Disappearing Democracy: How Bush v. Gore Undermined the Federal Right to Vote for Presidential Electors
"
Florida State University Law Review
29
, no.
2
(
2001
).
Faults the Supreme Court for premising the Bush v. Gore decision on an unexamined assertion that the U.S. Constitution offers no protection for the individual right to vote in presidential elections. Argues that the rights of voters whose choices went altogether unrecognized in Florida should have been regarded as posing a more important problem than divergences in the inter-county disparities in vote counting procedures per se.
"
School Desegregation Remedies and the Fair Governance of Schools
"
University of Pennsylvania Law Review
132
, no.
5
(
1984
):
1041-1129
.
Interprets the school desegregation right vindicated in Brown v. Board of Education and its progeny as a right of minority students and their parents to attend public school systems governed with equal regard for their educational interests. Argues, on that basis, that federal courts should regard themselves as having robust remedial powers to restructure unresponsive school systems. (Nearly 30 years later, this interpretation of the law – however valid – will no doubt seem quixotic to any reader of Roberts Court race opinions.)