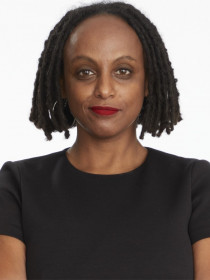 Rahwa
Haile
Associate Professor of Health Equity, Lehman College, City University of New York
Connect with Rahwa
About Rahwa
Haile's research focuses on the social production of health inequities, with a focus on how these processes impact Black NYC communities. Her most recent work examines the health impacts of individual and community-level exposure to the criminal legal system. Haile is also a Robert Wood Johnson Foundation Interdisciplinary Research Leader.
Contributions
Publications
"
Invest In Black Futures: A Public Health Roadmap For Safe NYC Neighborhoods
,"
Issuu
,
April 28, 2022
.
Mentions how Black New Yorkers are coming together to invest in Black futures, create true public safety, and build healthy, vibrant neighborhoods for everyone. Discusses The Brooklyn Movement Center's new report "Invest in Black Futures: A Public Health Roadmap for Safe NYC Neighborhoods" was developed by a Black-led, intergenerational working group of public health researchers, community safety organizers, and public policy advocates.