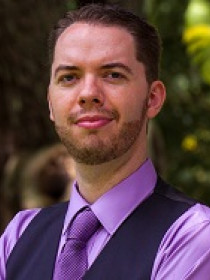 Rex
Troumbley
Postdoctoral Research Associate, Rice University
Connect with Rex
About Rex
Troumbley's research deals with how taboo language – cursing, swearing, profanity, obscenity, and racial slurs – is managed by medical, legal, and technical institutions in the United States. Most recently, his research has explored the extent to which digital technologies have been used to steer users away from undesirable behaviors as consumer technologies increasingly mediate user access to information or government services. Troumbley's research in this area led him to the Berkman Klein Center for Internet & Society at Harvard University, where he helped monitor global Internet censorship and participated in the design of a global governing body which will soon take over management of Internet addresses from the U.S.-based Internet Corporation for Assigned Names and Numbers (ICANN). Troumbley received his PhD from the Department of Political Science at the University of Hawaii at Manoa.
Contributions
Publications
"
Uncontrollable Cursing: Governing Tourette's Syndrome and Agentless Counter-Conduct
,"
University of Hawai'i at Manoa
,
forthcoming
.
Examines how "bad language" became a disease and a cultural disorder after a French Noblewoman suddenly began cursing uncontrollably.
"
Colonization.com – Empire Building for a New Digital Age
"
East-West Affairs
1
, no.
4
(
forthcoming
):
93-107
.
Argues that, while many in the U.S. like to think that Chinese Internet policy is about suppressing free expression online, it is also an attempt to keep American technology companies from competing with Chinese-grown technology firms.
"
Flying Past Filters and Firewalls: Pigeons as Circumvention Technology
" in
Internet Monitor 2013: Reflections on the Digital World
, edited by
Urs Gasser, Robert Faris, and Rebekah Heacock
(
Berkman Center for Internet and Society, 2013
).
Gives a brief history of how people have shared prohibited digital files by physically moving media from one computer to another and recent attempts to use pigeons as digital media carriers.