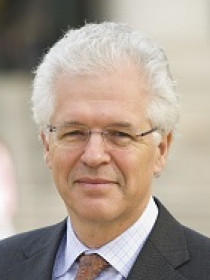 Richard
K.
Lester
Japan Steel Industry Professor and Associate Provost, Massachusetts Institute of Technology
Connect with Richard
About Richard
Lester's research focuses on local, national, and international systems of innovation. He is also active in research and teaching on nuclear technology innovation, management, and control. As head of MIT's Nuclear Science and Engineering Department, he works with his colleagues to advance the Department's role at the forefront of education and research on energy and non-energy applications of nuclear science and technology. As the founding director of the Industrial Performance Center (IPC), he has led several major studies of national and regional competitiveness and innovation performance commissioned by governments and industrial groups around the world including, most recently, the Energy Innovation Project, a study of strategies for upgrading the U.S. energy innovation system. Previously, in the IPC's Local Innovation Systems Project, he directed an international network of researchers studying the technological transformation of industries in regional economies and the role of universities in that process.
Contributions
Publications
"
Technology and Policy Aspects of Deep Borehole Nuclear Waste Disposal
" (with ).
Nuclear Technology
180
, no.
1
(
October 2012
):
111-121
.
Explores the use of deep boreholes as an alternative to geologic repositories like Yucca Mountain for the disposal of high-level radioactive waste, emphasizing key enabling technical features and their strong linkage to national and international fuel cycle policy.
Unlocking Energy Innovation: How America Can Build a Low-Cost, Low-Carbon Energy System
(with ) (
MIT Press, 2012
).
Outlines a new plan for remaking America's energy innovation system by tapping the country's entrepreneurial strengths and regional diversity in both the public and private spheres.
"
Universities, Innovation, and the Competitiveness of Local Economies
,"
MIT Industrial Performance Center Working Paper MIT-IPC-05-010, Massachusetts Institute of Technology
,
November 30, 2005
.
Draws on studies of innovation-enabled industrial change in 22 city-regions in 6 countries to replace the standard model of university tech transfer with a more comprehensive, more differentiated, and more context-dependent model of the university role in local and regional economic development.
Innovation – The Missing Dimension
(with ) (
Harvard University Press, 2005
).
Draws on studies of innovation processes in some of the economy's most dynamic sectors – including cell phones, medical devices, and blue jeans – to show how innovative companies balance the insistent demands of problem-solving with the vital but underappreciated interpretive processes needed to sustain creative output. Discusses the importance of interpretive public spaces for the innovative performance of national economies in the large.
Making Technology Work: Applications in Energy and the Environment
(with ) (
Cambridge University Press, 2004
).
Presents fifteen interdisciplinary case studies on technology applications in the energy and environment sectors, including solar, wind, fuel cell, nuclear, gas, and coal, to demonstrate that the successful application of new technologies requires the simultaneous consideration of technical, economic, political, environmental, and social aspects.
The Productive Edge: How American Industries are Pointing the Way to a New Era of Economic Growth
(
Norton, 1998
).
Shows how recent gains in productivity in key sectors can serve as models for renewed growth in the economy as a whole.