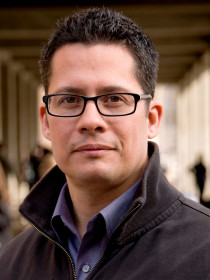 Roberto
G.
Gonzales
Professor of Education, Graduate School of Education, Harvard University
Connect with Roberto
About Roberto
Gonzales is a qualitative sociologist, whose research focuses on the ways in which legal and educational institutions shape the everyday experiences of poor, minority, and immigrant youth. Over the last decade he has been engaged in critical inquiry regarding what happens to undocumented immigrant children as they make transitions to adolescence and young adulthood. This research has helped scholars, policymakers, and educators gain a better understanding of their educational trajectories, how they come of age, and how a segment of these young people engages in civic and political activity. Professor Gonzales serves on the City of Chicago Office of New Americans Advisory Board, and has consulted with numerous immigrant-serving organizations throughout the U.S.
Contributions
No Jargon Podcast
Publications
Lives in Limbo: Undocumented and Coming of Age in America
(
University of California Press, 2015
).
Introduces us to two groups of undocumented immigrants who have lived in the U.S. since childhood: the college-goers and the early-exiters. Ethnography explores why highly educated undocumented youth share similar work and life outcomes with their less-educated peers, despite the fact that higher education is touted as the path to integration and success in America. Exposes the failures of a system that integrates children into K-12 schools but ultimately denies them the rewards of their labor.
"
Two Years and Counting: Assessing the Growing Power of DACA
," (with ),
Immigration Policy Center
,
June 2014
.
Presents findings from a national survey of young adults eligible for the Deferred Action for Childhood Arrivals (DACA), assessing progress of DACA beneficiaries, and highlighting the limitations of the program.
"
Becoming DACAmented
" (with ).
American Behavioral Scientist
58
, no.
14
(
2014
):
1852-1872
.
Provides new insights into how social policy interacts with other stratification processes to shape diverging pathways of incorporation among the general pool of undocumented immigrants.