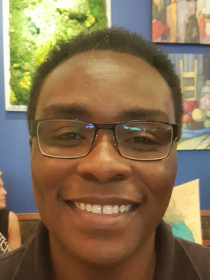 Roderick
Graham
Assistant Professor of Sociology and Criminal Justice, Old Dominion University
Connect with Roderick
About Roderick
Roderick's research explores the social implications of information and communication technologies (ICTs) such as mobile phones and the Internet. His recent work has been in two areas: (1) how racial minorities are leveraging the capabilities of the digital environment to improve their social outcomes, and (2) patterns of deviance and crime in the digital environment.
Contributions
In the News
Interview on the social implications of online dating
Roderick Graham,
Providence NBC-10
,
September 9, 2011
.
Publications
"
Nurturing Nonmarket Spaces in the Digital Environment
"
First Monday
21
, no.
10
(
2016
):
3
.
In this essay I argue that a change in the way ICTs are conceptualized is needed in order to increase interest in protecting the public goods produced by ICTs. To this end, I describe a model in which interconnected ICTs work in layers to produce a single digital environment. People must have access to each layer in this environment in order to benefit from the goods produced. In this environment, there is room for both market spaces that support commerce and non-market spaces that support public goods. I argue that this model can aid citizens and advocacy groups in framing and justifying the need for nurturing non-market spaces.
"
The Content of Our Characters: #BlackTwitter as Counterpublic
" (with ).
Journal of Race and Ethnicity
2
, no.
4
(
2016
):
433-449
.
In this paper we compare Black Twitter, as indicated by the #BlackTwitter hashtag, with hashtags indicating the public sphere—#TCOT (Top Conservatives on Twitter) for conservatives and #UniteBlue for progressives—and with a hashtag indicating another potential counterpublic—#BCOT (Black Conservatives on Twitter). The findings suggest that compared with other hashtags and the publics they represent, #BlackTwitter possesses more of the characteristics of a space where counterhegomic and alternative ideas can be expressed.
"
Capable Guardians in the Digital Environment – The Role of Digital Literacy in Reducing Phishing Victimization
" (with ).
Deviant Behavior
(
forthcoming
).
Explores the correlates of phishing victimization. Respondents with higher levels of digital literacy report receiving phishing emails more often, but report responding to them less. Second, the social position of a respondent matters, but largely for the receipt of phishing. These findings indicate that digital literacy significantly effects the receipt of and response to phishing.
"
Inter-Ideological Mingling: White Extremist Ideology Entering the Mainstream on Twitter
"
Sociological Spectrum
36
, no.
1
(
2015
):
24-36
.
This case study explores the convergence of white extremist political ideology with mainstream political ideology on the micro-blogging platform Twitter – a phenomenon termed "inter-ideological mingling". Several pieces of evidence were found supporting inter-ideological mingling. Cluster analysis shows that extremist terms are not isolated from terms found in mainstream political discourse. Textual analysis of individual tweets provides evidence for five strategies of inter-ideological mingling: joining, blending, piggybacking, backstaging, and narrating.
Digital Practices: Studying the Social Implications of Information and Communication Technologies
(
Peter Lang, 2013
).
Describes a perspective for the sociological study of information and communication technologies. Three case studies of African Americans and their information and communications technology norms, or digital practices, are used to illustrate the viability of this perspective.