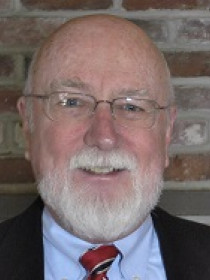 Ronald
J.
McAllister
Provost Emeritus, Elizabethtown College
Connect with Ronald
About Ronald
McAllister is a sociologist by training. His main research interests are in the sociology of religion, community studies and in interdisciplinary peace and conflict studies. The focus of his most recent academic work was the intersection of religion and politics, particularly the conflict in Northern Ireland. Since retiring in 2006, McAllister has been actively applying his sociological practice to his local community. In 2009, he co-founded the York Community Dialogue, a grassroots organization encouraging civic engagement. McAllister also chairs the Town's Parks and Recreation Board and the York Village Study Committee.
Contributions
Publications
"
Religious Identity and the Future of Northern Ireland
"
Policy Studies Journal
28
, no.
4
(
2000
):
843-857
.
Explores the significance of the expressions "the Catholic community" and "the Protestant people" in Northern Ireland in looking at the impact of religious ideas on current policy issues. A comparison of Northern Ireland and the United States is offered as a way of suggesting the effect social and economic mobility will have on attempts to resolve the province's political troubles.
"
Managing Conflict in Higher Education
"
Brethren Life and Thought
45
, no.
4
(
2000
).
Describes three different types of conflict and shows how these can be manifested in the context of higher education. The article goes on to give examples of conflicts with which academic administrators routinely deal and then draws ten lessons in conflict management for academics, and concludes with a description of community accountability conferencing as an approach to conflict transformation.
"
The Mobilization of Prophecy: A Challenge to the Churches of Northern Ireland
" in
Prophetic Religions, Mobilization, and Social Action
, edited by
Anson D. Shupe and Bronislaw Misztal
(
Praeger Press, 1998
).
Calls for a radical defusing of religious conflicts in Northern Ireland and the isolation of supporters of violence within the churches – actions which much be brought about by lay people inspired by religious prophecy, working together with clergy.
"
Research Methods in the Sociology of Religion
" in
The Encyclopedia of Religion and Society
, edited by
William H. Swatos, Jr.
(
Alta Mira Press, 1998
).
Discusses techniques – and the history of their development – used to study empirical reality within the social scientific study of religion and offers guidance for methodologists.