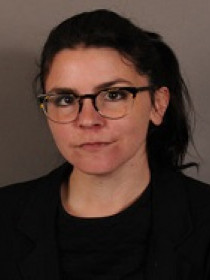 Sara
M.
Bernardo
PhD Candidate in Public Policy, University of Massachusetts Boston
Connect with Sara
About Sara
Bernardo is a PhD candidate in the Department of Public Policy and Public Affairs at the University of Massachusetts Boston. Her research examines the relationships between U.S. household indebtedness, and financial and labor market developments and social policy, focusing on the transformations within economic and social security practices since the 1970s. Bernardo is also a lecturer in the Department of Economics at UMass Boston, teaching courses on money and financial institutions, the history of economic thought, and labor market economics. Her research and teaching objectives aim at bridging the gap between current economic policy issues and the standard theories taught in university economics curriculum, with the end goal of encouraging a deeper analysis of the policy making process in order to develop more comprehensive economic security policies.
Contributions
Publications
"
Putting Retirement at Risk: Has Financial Risk Exposure Grown Faster for Older Households than Younger Ones
" (with ).
Journal of Aging and Social Policy
(
forthcoming
).
Examines the correlation between age and financial market risk exposure using data from the Federal Reserve's Survey of Consumer Finances from 1989 to 2010; argues that risk exposure has grown more for older households than for younger ones, that demographic changes among older households have contributed to additional increases in older households' risk exposure and that the growth of older households' risk exposure is driven more by rising risky asset concentration and less by greater indebtedness.
"
Debt Lock-In: Household Debt Burdens and Voluntary Quits
" in
Financial Market Development and Labor Relations
, edited by
Christian E. Weller
(
ILR Press, 2015
).
Analyzes the causes and consequences of the growth of U.S. household debt burdens by examining the relationship between the supply and demand of consumer credit; highlights the macro and microeconomic consequences of the reinforcing cycle of labor market insecurity and financial risk exposure that has resulted from labor and financial market developments.
"
Identifying Financial Sector Trends and Trouble Spots: The Federal Reserve's Flow of Funds and the Insights Gleaned from Their Data
" (with ), in
Public Economics: The Government's Role in American Economics
, edited by
Stephen Payson
(
Praeger, 2014
).
Explains how to use the Federal Reserve's Flow of Funds Accounts to analyze potential economic problems that may result from the distribution of assets and liabilities.