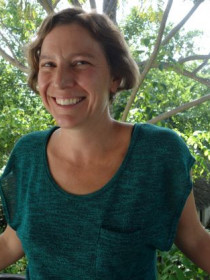 Sara
Delaney
Ph.D. student in Sustainable Agriculture, University of Maine
Connect with Sara
About Sara
Delaney's research focuses on farmer and agricultural advisor social networks around adaptation to a changing climate. Delaney is currently working with fruit and vegetable growers in the Northeast of the US. Themes in Delaney's writings include food systems, the ecology of farming, climate adaptation, and how farmers learn, communicate and spread new norms.
Delaney has recently consulted on sustainability initiatives both at the University of Maine and the greater Bangor region, and previously spent 12 years working with international non-profits supporting farmers in Asia, Africa and Latin America.
Contributions
Publications
Science and Innovation for Development
(with ) (
UK Collaborative on Development Sciences, 2010
).
Shows scientific knowledge in the areas of health, agriculture and climate change is crucial for solving our world's evolving challenges.