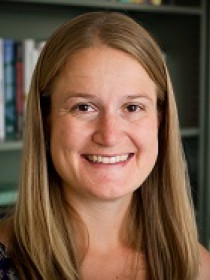 Sarah
Reckhow
Associate Professor of Political Science, Michigan State University
Connect with Sarah
About Sarah
Reckhow's research examines education policy and social welfare policy, particularly in urban areas. Her work on urban schools has focused on policy reforms in New York City, Los Angeles, and Oakland. She is an expert on the rising influence of major foundations, such as the Gates Foundation, on education policy and politics. She has also analyzed philanthropic support for metropolitan social safety nets in Detroit, Chicago, Atlanta, and Denver. This research was published in a report from the Brookings Metropolitan Policy Program. Reckhow is affiliated with the Global Urban Studies Program at Michigan State, the Education Policy Center at Michigan State, and the MacArthur Foundation's Building Resilient Regions research network.
Contributions
No Jargon Podcast
Publications
"
Policy Cues and Ideology in Attitudes toward Charter Schools
" (with ).
Policy Studies Journal
46
, no.
2
(
2015
).
Investigates whether and how public attitudes reflect interest group polarization or politician consensus surrounding the charter school debate. Argues that charter school opinions diverge along ideological lines among high-information respondents and assesses whether the role of private companies and nonunion teachers changes support for charter schools.
Follow the Money: How Foundation Dollars Change Public School Politics
(
Oxford University Press, 2013
).
Shows where and how foundation investment in education is occurring and analyzes of the political effects of these investments in the two largest urban districts in the United States: New York City and Los Angeles.
"
Disseminating and Legitimating a New Approach: The Role of Foundations
" in
Between Public and Private: Politics, Governance, and the New Portfolio Models for Urban School Reform
, edited by
Katrina E. Bulkley, Jeffrey R. Henig, and Henry M. Levin
(
Harvard Education Press, 2011
),
277-304
.
Shows the expansion of education reform nonprofits supported by major national foundations, and demonstrates how this national network of nonprofits links organizations engaged in market-oriented reform across different cities.