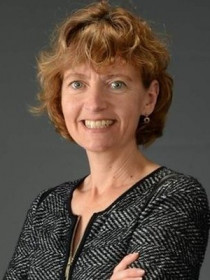 Sarah
Verbiest
Director, Jordan Institute for Families, University of North Carolina at Chapel Hill
Connect with Sarah
About Sarah
Sarah Verbiest is a Clinical Associate Professor and the Director of the Jordan Institute for Families at the UNC School of Social Work. She is also the Executive Director of the Center for Maternal & Infant Health in the UNC School of Medicine. In addition to teaching courses on health equity and policy, Dr. Verbiest directs several programs addressing the needs of women, pregnant women, new mothers and their infants – including preconception health, tobacco cessation, recurring preterm birth prevention with 17P and postpartum health and wellness. She is nationally known for her work on preconception and postpartum health. She is the Principal Investigator for a HRSA MCHB (Maternal Child Health Branch) Cooperative Agreement for the Collaboration Innovation and Implementation Network on Reducing Infant Mortality, focusing on improving the health of women before pregnancy. She is a Co-Principle investigator for a just announced 5-year project also from the MCHB to provide technical assistance to states on improving maternal health. Her book – Moving Life Course Theory into Action –includes a focus on sensitive periods of human development, including the postpartum period. She has more than 20 years of experience in maternal and infant health and is a mom, a professor, a writer, a researcher, and an advocate for women and all they deserve to have in life. Dr. Verbiest earned her Masters in Social Work, Masters in Public Health (Maternal and Child Health) and Doctorate in Public Health (Leadership) from the University of North Carolina at Chapel Hill.
Contributions
Publications
"
Health Needs of Mothers of Infants in a Neonatal Intensive Care Unit
" (with ).
Annals of Internal Medicine
173
, no.
11
(
2020
):
S37-S44
.
Discusses reducing maternal mortality and morbidity through improved postpartum care for mothers of infants in intensive care units. Shares the results of a comprehensive mixed methods study that demonstrates these women have significant health needs that are unmet.
"
Catalyzing a Reproductive Health and Social Justice Movement
" (with ).
Maternal and Child Health Journal
20
, no.
4
(
2016
):
741-748
.
Illustrates a call to action to the field of maternal and child health to approach their work with a reproductive justice lens, focusing on the social determinants of health and equity for all people.
Moving Life Course Theory Into Action Making Change Happen
(
Public Health Association Press, 2018
).
Establishes a practical guide for social work and public health professionals who seek to take an intergenerational, life-course approach to their work to improve outcomes and equity.