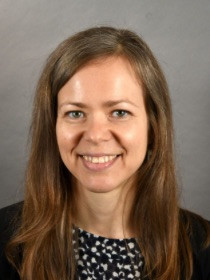 Sofya
Aptekar
Associate Professor of Urban Studies, CUNY School of Labor and Urban Studies
About Sofya
Aptekar conducts research on immigration, race and ethnicity, and urban communities. She teaches classes on sociology, race and ethnic relations, sociological research methods, and social theory. Aptekar is knowledgeable about citizenship acquisition by immigrants in the United States and beyond, as well as how the naturalization process and the meaning of citizenship have changed over time. Her most recent work examines how people get along in diverse and changing urban neighborhoods. In recent years, Aptekar has served on an advisory board of a neighborhood-based youth enrichment organization, taught adult English learners, and volunteered as an instructor at a youth correctional facility.
Contributions
No Jargon Podcast
Publications
"
Doctors As Migration Brokers in the Mandatory Medical Screenings of Immigrants to the United States
"
Journal of Ethnic and Migration Studies
46
, no.
9
(
2020
):
1865-1885
.
Presents quantitative analysis of a random survey of civil surgeons, identifying features of this migration industry and constructing at typology of profit seekers, immigrant advocates, and screeners. Explains that civil surgeons are in the private sector, dominated by immigrant doctors who tend to pass most applicants and charge higher fees.
"
Capitalism and the Immigrant Rights Movement in the United States
" (with ).
Socialism and Democracy
33
, no.
3
(
2020
):
1-25
.
Discusses how social movements are full of contradictions, and an inherent tension often emerges between reformist and radical flanks. Mentions how this becomes especially true as activists attempt to draw connections between varied aims such as opposition to globalization and support for immigrants. Considers the implication of this critical omission.
"
The Unbearable Lightness of the Cosmopolitan Canopy: Accomplishment of Diversity at an Urban Farmers Market
"
City and Community
18
, no.
1
(
2019
):
71-87
.
Provides a critique of work on urban public space that touts its potential as a haven from racial and class conflicts and inequalities. Argues that social structures and hierarchies embedded in the capitalist system and the state's social control over the racialized poor are not suspended even in places that appear governed by civility and tolerance, such as those under Anderson's "cosmopolitan canopy.
"
The Public Library as Resistive Space in the Neoliberal City
"
City and Community
18
, no.
4
(
2019
):
1203-1219
.
Draws on ethnographic research of a small public library in a diverse, mostly working class neighborhood in Queens, New York. Shows that in addition to providing an alternative to the capitalist market by distributing resources according to people's needs, the library serves as a moral underground space, where middle-class people bend rules to help struggling city residents. A
"
Gifts Among Strangers: The Social Organization of Freecycle Giving
"
Social Problems
63
, no.
2
(
2016
):
266–283
.
Investigates motivations for giving and the social norms that guide it. Finds that while members of other internet-based groups have been found to exhibit altruism and solidarity, altruism and solidarity in Freecycle appear to be secondary
The Road to Citizenship: What Naturalization Means for Immigrants and the United States
(
Rutgers University Press, 2015
).
Examines citizenship acquisition from the perspective of immigrants and the American nation, demonstrates how naturalization exacerbates American inequality, and introduces policy alternatives.
"
Citizenship Status and Patterns of Inequality in the United States and Canada
"
Social Science Quarterly
95
, no.
2
(
2014
):
343-359
.
Demonstrates a growing inequality in the distribution of citizenship among immigrants in the United States and no such growth in Canada. Argues that the most disadvantaged unskilled immigrants are becoming ever more unlikely to gain access to the benefits of citizenship, including the right to vote, job opportunities, and security from deportation.