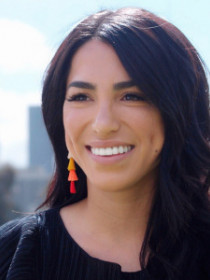 Stephanie
L.
Canizales
Postdoctoral Fellow of Sociology, University of California, Merced
Connect with Stephanie
About Stephanie
Canizales' research focuses on the study of international migration, immigrant integration, and inequality, using ethnographic research methods to explore how undocumented and unaccompanied Latinx migrant youth navigate migration and settlement in U.S. society. Canizales examines why Central American and Mexican youth, including indigenous young people, migrate to Los Angeles, California, and how they incorporate into school, work, family, and community life as they come of age without parents and legal status. Canizales' work is unique in that it includes undocumented and unaccompanied youth migrants, including indigenous youth, who were not apprehended at the U.S. Southern border and thus have diverse (and often non-traditional) work and school experiences, family dynamics, and community group affiliations. Canizales' research has been published in Ethnic and Racial Studies and the Journal of Ethnic and Migration Studies. Canizales is an Emerging Poverty Scholars Fellow with the Institute for Research on Poverty at the University of Wisconsin-Madison.
Contributions
Publications
"
Support and Setback: How Religion and Religious Organisations Shape the Incorporation of Unaccompanied Indigenous Youth
"
Journal of Ethnic and Migration Studies
45
, no.
9
(
2018
):
1613-1630
.
Reports on 24 months of observations at two Los Angeles Catholic churches and interviews with undocumented and unaccompanied, indigenous migrant youth churchgoers to understand how churches influence migrant youths' incorporation. Finds that church membership can delay undocumented and unaccompanied youths' incorporation by reproducing inequality as they offer individualized solutions, like tithing and service, to structural disadvantages such as work exploitation, poverty, and addictions.
"
American Individualism and the Social Incorporation of Unaccompanied Guatemalan Maya Young Adults in Los Angeles
"
Ethnic and Racial Studies
38
, no.
10
(
2015
):
1831-1847
.
Shows that while scholars predict Americanization and individualism threatens immigrant incorporation, research with unaccompanied Guatemalan Maya young adult participants of a Los Angeles support group indicate that Americanization and the adoption of American individualism equips youth growing up without parents or supportive social institutions with the rhetoric and behaviors of self-responsibility necessary for emotional, psychological and financial stability. Finds social incorporation increases as youth begin to see themselves as participants in a local community.