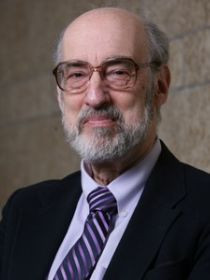 Stephen
E.
Gottlieb
Jay & Ruth Caplan Distinguished Professor of Law, Emeritus, Albany Law School
Connect with Stephen
About Stephen
Gottlieb's work focuses on the varying implications of social science, such as gerrymandering, campaign contributions, other areas of election law, and the efficacy of law. He has taught courses on constitutional law, comparative constitutional law, the U.S. Constitutional Convention of 1787, the U.S. Supreme Court, equal protection, election law, as well as the ramifications of the First Amendment in courses related to broadcasting, the internet, and privacy. He has participated on multi-disciplinary panels at many professional associations of political scientists, and represented political scientists as amicus curiae at all levels of the federal court system. Furthermore, Gottlieb has written two critical books and many articles on the Court, where he has compared the different forms of liberalism and conservatism expressed by each of the justices, as well as showed how those values drove their decisions, and evaluated the work of the Court against scientific findings of why democracies fall apart. Alongside his wife, Gottlieb has worked closely with a variety of formal and informal groups of Muslim Americans and refugees, such as the Returned Peace Corps Volunteers of Northeastern New York (RPCV-NENY) and the Peace Corps Iran Association. 
Contributions
No Jargon Podcast
Publications
Morality Imposed: The Rehnquist Court and Liberty in America
(
New York University Press, 2000
).
Examines and compares the values that underlay the positions of the nine justices of the Rehnquist Court who served from 1994-2005. Explains how those differences made it possible for conservatives, but impossible for liberals to countenance the execution of innocent people, and for conservative willingness to compromise and liberal insistence on protecting democratic government, among many other areas.
Public Values in Constitutional Law
(
University of Michigan Press, 1993
).
Reflects the Court's claim that some values are important enough to override constitutional protections and requirements. Demonstrates that the same analytic structure that the Court uses to diminish rights also implies a fundamental right to a safety net for the homeless and other vulnerable members of society.
Unfit for Democracy: The Roberts Court and the Breakdown of American Politics
(
New York University Press, 2016
).
Compares the work of the Roberts Court with the political science of why democracies fall apart. Demonstrates that the Roberts Court has been a major facilitator of the breakdown of democracy in America.