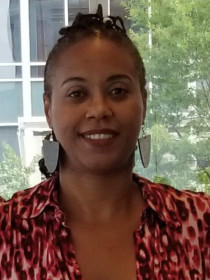 Tamanika
Ferguson
Postdoctoral Scholar, University of Maryland-College Park, Visiting Assistant Professor of Women's, Gender, and Sexuality Study, Allegheny College
Connect with Tamanika
About Tamanika
Ferguson frames carceral narratives of justice -involved women and gender expansive people serving time in women's prisons in California, largely through a lens of voice and agency that centers their record of critical resistance and advocacy. Ferguson is currently working with CCWP on various projects. She is also working with a small group of women thought leaders on advancing the rights of women and girls as a Public Voices Fellow with The OpEd Project, in partnership with international women's rights organization Equality Now.
Contributions
Publications
Voices from the Inside: Incarcerated Women Speak
.
Uses a racial, gender, and queer justice framework to effectively address and counter the role of carceral punishment in American society. Addresses more specifically, in California and the role of justice-involved women and their advocates, the California Coalition for Women Prisoners, to achieve human justice reforms that improve carceral conditions and liberate more women.