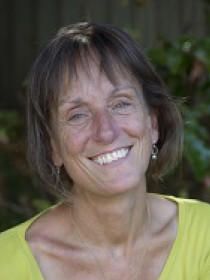 Thaisa
Way
Professor of Landscape Architecture, College of Built Environments, University of Washington
Connect with Thaisa
About Thaisa
Way is an urban landscape historian teaching history, theory, and design at the University of Washington, Seattle. In 2015 she was appointed founding Executive Director of [email protected], an initiative of the Office of Research to bring urban faculty together to build inclusive data-driven innovations in response the greatest challenges of cities in the 21st century. Way leads faculty in partnering with city governments, communities, and nonprofit organizations to bring research into practice and real problems into university classrooms. In 2016 the focus is on urban environmental justice in a time of climate change and the challenges of affordable housing and homelessness. Partnering social and climate scientists as well as humanists, designers, policy makers, and social workers is necessary to create robust responses to these significant challenges.
Contributions
Publications
River Cities: City Rivers
(
Harvard University and Dumbarton Oaks Garden and Landscape Studies, forthcoming, 2017
).
Analyzes essays that re-describe urban histories through the lens of the river and hydrology as a form of urban environmental history. This approach underscores the potential of understanding how environmental and urban questions are closely threaded together and only if we address both will we create more resilient cities and urban communities.
"
Now Urbanism: A Proposal for Interdisciplinary Spatial Inquiries
" (with ).
Derive: Magazine for Urban Research
53
(
forthcoming
):
37-40
.
Analyzes how we re-imagine cities not as ideal dreams, but as real places with communities in place. These communities have the opportunity to re-create their own landscapes to build more resilient and sustainable places that nurture social, cultural, and ecological health.
"
Under the Sky: Landscapes of Industrial Excess: A Thick Sections Approach to Gas Works Park
"
Journal of Landscape Architecture
11
, no.
1
(
2013
):
28-39
.
Demonstrates the idea of the thick section, or the need to understand urban landscapes as far more complex than the simple grass and trees we see. In the post industrial sites that so many cities host, we need to understand the toxins and the organic matter that are below the surface in order to address the challenges of healing the landscape. We need to know the stories of how these places came to be, if we are going to genuinely seek to re-imagine them as public parks and community spaces.
Now Urbanism: The Future City is Here
(with ) (
Routledge Press, 2014
).
Challenges the utopian ideals of past generations; this collection of essays suggest the power of improving cities by drawing on the existing assets. The writers are designers, urban planners, and historians who want to re-imagine how we could build more resilient cities within the confines of our cities today, without displacing or disconnecting people to the places in which they live and work and love.