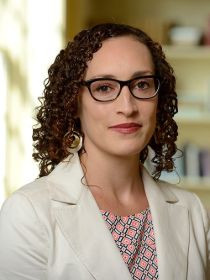 Vesla
M.
Weaver
Bloomberg Distinguished Associate Professor of Political Science and Sociology, Johns Hopkins University
Connect with Vesla
About Vesla
Weaver is broadly interested in understanding racial inequality in the United States, how state policies shape citizenship, and the effects of the growth of the criminal justice system in the United States. She specifically studies the causes and consequences of a large shift in criminal justice policy and practice in the United States. Her recent work is concerned with the effects of increasing punishment and surveillance in America on democratic inclusion, particularly for the black urban poor. Weaver has also researched changes in race relations in the United States. Weaver's research has been supported by fellowships from the National Science Foundation, the Ford Foundation, and the Brookings Institution. She has previously worked for the Civil Rights Project at Harvard University, the Joint Center for Political and Economic Studies, and the Southern Poverty Law Center. At the University of Virginia, she spearheaded the Working Group on Racial Inequality.
No Jargon Podcast
Publications
Arresting Citizenship: The Democratic Consequences of American Crime Control
(with ) (
University of Chicago Press, 2014
).
Assesses the contemporary carceral state for American democracy, and argues that the broad reach of the criminal justice system has fundamentally recast the relation between citizen and state, resulting in a sizable – and growing – group of second-class citizens.
"
Black Citizenship and Summary Punishment: A Brief History to the Present
"
Theory & Event
17
, no.
3
(
2014
).
Discusses the history of unfair treatment of black people - men in particular - by police and how these experiences are part of the socialization of black Americans and the death of Michael Brown. Argues that violence against black citizens has continued unabated over time because the U.S. government has not mandated the protection of black life from extra-judicial violence as a matter of national policy.
"
The Electoral Consequences of Skin Color: The 'Hidden' Side of Race in Politics
"
Political Behavior
34
, no.
1
(
2012
):
159-192
.
Uses an experiment to see if the darkness of a black candidate's color influences voters' evaluations; color has an important effect – conservatives punish dark-skinned blacks while liberals and women reward them.
Creating a New Racial Order: How Immigration, Multiracialism, Genomics, and the Young Can Remake Race in America
(with ) (
Princeton University Press, 2012
).
Explores what is changing and what isn't in race relations in American society. Argues that while race is a less significant predictor of life chances today, there remain several important blockages to racial progress.
"
Destabilizing the American Racial Order
" (with ).
Daedalus
140
, no.
2
(
2011
):
151-165
.
Seeks to identify what is changing in the American racial order, what persists or is becoming even more entrenched, and what is likely to affect the balance between change and continuity.
"
Political Consequences of the Carceral State
" (with ).
American Political Science Review
104
, no.
4
(
2010
):
817-833
.
Analyzes the effects of being stopped, arrested, convicted, or imprisoned on political engagement and trust in government.
"
Frontlash: Race and the Development of Punitive Crime Policy
"
Studies in American Political Development
21
, no.
2
(
2007
):
230-265
.
Argues that the expansion in punitive interventions were not merely about crime-fighting; shifts in criminal justice can be traced back to a conservative "frontlash" responding to civil rights expansions.