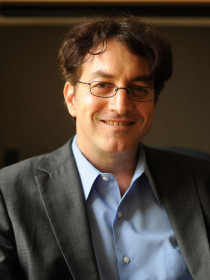 Victor
Pickard
Professor of Communication, University of Pennsylvania
Connect with Victor
About Victor
Pickard's research interests cohere around a central concern: how media institutions and systems enable or constrain democratic practices. To understand these potentialities, his work examines the policies, politics, histories, ideologies and democratic theories that structure U.S. and global media. More specifically, he focus on internet and media policy, the politics and normative foundations underlying specific policy regimes, and activist efforts toward changing them. In recent years, my research has focused on questions about the future of journalism.
Pickard has worked on media policy in Washington, D.C. as a senior research fellow at Free Press and the New America Foundation's Open Technology Institute, as well as a policy fellow for Rep. Diane Watson. Currently, he is a board member of Free Press, a leading US media reform organization.
In the News
Guest to discuss
What Radio Can Teach the Internet
on
On the Media, WNYC
, Victor Pickard,
February 27, 2015
.
Victor Pickard
quoted ,
"The Leonard Lopate Show, WNYC"
,
February 18, 2015
.
Guest to discuss
The History of America's News Media and What Went Wrong
on
Radio Times WHYY
, Victor Pickard,
January 12, 2015
.
Guest to discuss
Will the Last Reporter Please Turn Out the Lights
on
C-SPAN Book TV New America Foundation
, Victor Pickard,
June 20, 2011
.
Publications
America's Battle for Media Democracy: The Triumph of Corporate Libertarianism and the Future of Media Reform
(
Cambridge University Press, 2015
).
Traces the historical and ideological roots of the American media system by drawing from extensive archival research. In particular, it analyzes the critical juncture in the 1940s when policymakers, social movements, and communication industries grappled over the role of a commercial press in a democratic society.
Will the Last Reporter Please Turn Out the Lights: The Collapse of Journalism and What Can Be Done to Fix It
(with ) (
The New Press, 2011
).
Assembles key writings on the crisis in journalism and offers policy proposals for how we might begin to re-imagine the ownership and control of news media so that it can better serve democracy.
Saving the News: Toward a National Journalism Strategy
(with ) (
Free Press, 2009
).
Defines the nature of the journalism crisis, catalogued alternative models, and proposed public policy initiatives to sustain public service journalism in the first comprehensive study of the journalism crisis that accelerated in 2008-2009.