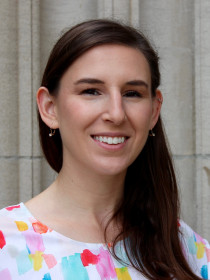 Avigail S. Oren
Director of Development
About Avigail
Avigail Oren is the Director of Development at Scholars Strategy Network. In this role, she works to raise funding to support the organization's general operations, specific programs, and new initiatives. 
Avigail holds a Ph.D. in History from Carnegie Mellon University. After completing her degree, she launched a small business providing research, writing, and editorial services. Over five years, Avigail worked with a dynamic group of academic, non-profit, and consulting clients, and learned from them how to approach strategic planning, communicate impact to funders, and build trusting, reciprocal relationships with stakeholders. 
Avigail is a co-founder of The Metropole, the blog of the Urban History Association, and served as senior co-editor for nearly 6 years. She also is the co-creator and co-owner of DEVONthink for Historians, a set of online courses teaching archival and qualitative researchers how to optimally use DEVONthink database software for historical research.
When Avigail is not buried in books, she can most often be found on a couch in Pittsburgh watching TV with her best decision ever, Kevin.