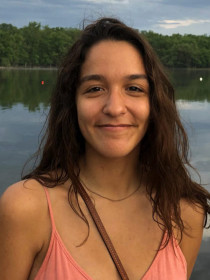 Kimberly Gonzalez
Digital Communications Associate
Connect with Kimberly
Contact Kimberly About
SSN newsletters, social media, and website

SSN branding
About Kimberly
As the Digital Communications Associate at the Scholars Strategy Network, Kim manages SSN's website and social media channels, and tracks key metrics across SSN's platforms. She supports the creation of content such as SSN's newsletters and No Jargon podcast.
Kim got her start in the communications field at her college newspaper and by writing for the political magazine City & State NY. After a stint in journalism, she stepped into the nonprofit world where she has worked on a variety of missions, from advocating for food security in the Adirondack region to supporting clean energy companies at the Koffman Incubator in Binghamton, NY. Most recently, Kim worked as a Science & Technology Communications Intern at Radiant Earth Foundation where she communicated to data scientists and policymakers in the Earth observation space through social media, newsletters and other multimedia content.
Kim lives in Upstate New York where she enjoys trail running and doing yoga. She graduated with a BS in Environmental Science from Binghamton University in May of 2022.