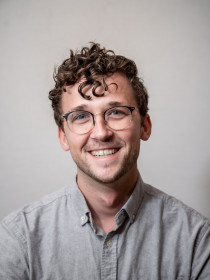 Dominik Doemer
Director of Communications
Connect with Dominik
Contact Dominik About
OpEd editing and pitching

Media interview requests

General SSN communications support
About Dominik
Joining the Scholars Strategy Network in June 2017 as a Communications Associate, Dominik has spent the last several years helping university-based scholars become influential players in the media. Now, as Director of Communications, he leads SSN's communications team's media work with our over 1,600 members and oversees SSN's organizational communications strategy. 
In his day to day, Dominik helps researchers connect with the media, write opinion pieces for popular outlets, and develop a media strategy for their work. He has helped scholars place pieces in outlets such as The New York Times, The Los Angeles Times, The Washington Post, USA Today, CNN, and many others. He frequently leads workshops for large and small groups of researchers on how to best communicate with reporters or write compelling OpEds. Dominik also works directly with journalists, helping them find the right source for their piece, on deadline.
Dominik is originally from Germany and moved to western Massachusetts in 2006. He graduated from Tufts University with a BA in Sociology and Environmental Studies.