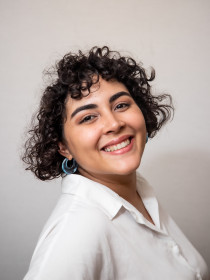 Lisa Hernandez
Senior Reproductive Health & Rights Associate
Connect with Lisa
Contact Lisa About
SSN's programming for early-career repro scholars

Connecting policy stakeholders and scholars of reproductive rights, health, and justice
About Lisa
Lisa Hernandez joined SSN in May 2020. She is responsible for connecting reproductive health, rights and justice scholars and their research to civic organizations and policymakers at the federal, state and local levels across the US.
Before this role, she served as a Raiz Organizer for Planned Parenthood of Southwest and Central Florida in Orlando and Kissimmee. In this role, she worked with Latinx communities on their reproductive health and rights by engaging in conversations about these issues in English and Spanish, developing volunteer leaders, creating meaningful alliances with Latinx and health organizations, pushing for policies protecting access to care, and fighting against policies that diminish access to care.

She is also the co-founder of Borisquad, a chapter of the national Boricua Resistance. It is an intersectional, youth-led collective working to empower, uplift and raise consciousness among the Puerto Rican community in Central Florida through action, education and culture.
Lisa is a University of Central Florida alumni with a Bachelor's Degree in Political Science: Pre-Law and a minor in Women's and Gender Studies. Her academic interests include gender equity and the impact of economic and racial disparities.