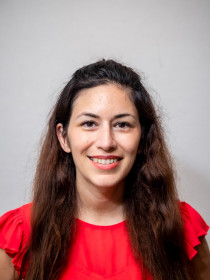 Mandana Mohsenzadegan
Communications Associate
Connect with Mandana
Contact Mandana About
OpEd editing and pitching

Media interview requests

No Jargon podcast
About Mandana
As Communications Associate, Mandana provides op-ed editing and pitching support to scholars, facilitates SSN workshops, directs SSN's No Jargon podcast, and compiles lists of relevant experts available to be interviewed by reporters for major news stories.
Mandana holds a master's degree in English literature and a bachelor's degree in journalism. Before joining SSN, she was an English lecturer at San Jose State University and an English adjunct at Evergreen Valley College. At both institutions she taught writing courses that focused on argumentation and awareness of audience, helping students identify effective rhetorical strategies in a variety of op-eds and guiding them as they used some of those strategies in their own writing. While most of her career has been in academia, Mandana also worked briefly as a reporter for a community newspaper called the Campbell Express, where she gained experience with journalistic writing.
A few years ago, Mandana created a podcast that encouraged listeners to unplug for a few hours every week. This passion project provided her with the opportunity to enter into a conversation with academics, philosophers, and writers about the impacts our devices have on our cognitive abilities and our interpersonal relationships. Alongside her cohost and guests, she brainstormed strategies for using technology in ways that makes the most of its benefits and mitigates negative effects.
Mandana lives in the Bay Area with her spouse, two-year-old daughter, and five-year-old rescue dog. In her free time, she enjoys going to the beach with her family, reading 19th century British literature, and watching baseball. She finds great joy in introducing her daughter to her Iranian heritage and sharing Persian traditions.