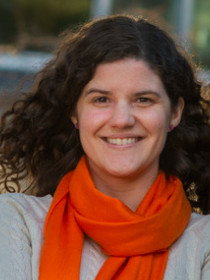 Paola Maynard-Moll
Executive Director
Connect with Paola
Contact Paola About
Organizational overview and strategy

Fundraising and development
About Paola
Paola Maynard-Moll, also known as Pao, is the Executive Director of the Scholars Strategy Network, where she leads a growing organization that empowers researchers to inform public policy by connecting their expertise with policymakers, civic organizations, and journalists across the country. Pao has been with SSN since 2014 and, to date, has helped the network grow to over 1600 member scholars and almost 40 regional chapters supported by a small but mighty national staff. 
Before her time at SSN, Pao's early career was in state government. Through Northeastern University School of Law's co-operative legal education program, Pao had the opportunity to take on two public service legal internships, first in the Executive Office for Administration and Finance during Massachusetts Governor Deval Patrick's administration, and second in the Massachusetts Senate General Counsel's Office. After law school, Pao worked in the Massachusetts Legislature's Joint Committee on Revenue, where she focused on state fiscal policy and revenue reform. It was through these positions that she developed an interest in and understanding of state government and the policymaking process. These previous roles also made evident the need for an organization like SSN to connect scholars to policy actors at all levels.
Pao's professional experiences in the policymaking sphere, along with her years of work with SSN members and chapters and knowledge of the academic literature on the use of research evidence, form the basis of the insights Pao draws from when advising scholars on how to ensure their expertise informs the policymaking process.
Pao grew up in San Juan, Puerto Rico, moving to Massachusetts to attend Bentley University for her undergraduate studies. She now lives right outside of Boston with her wife, two kids, and dog.