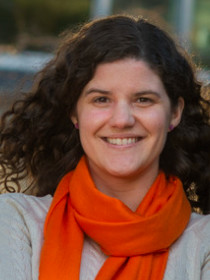 Paola Maynard-Moll
Executive Director
Connect with Paola
Contact Paola About
- Chapter building for impact
- Engaging with policymakers and civic leaders
About Paola
Paola Maynard-Moll, also known as Pao, grew up in San Juan, Puerto Rico. She came to Massachusetts in 2002 for her undergraduate studies and has been living in the Commonwealth ever since.
Pao joined the staff of the Scholars Strategy Network in 2014. After two years as Assistant Director of Policy, she was promoted to Director of Policy and Chapters. In this capacity, she oversaw the organization's efforts to help scholars use relationship-building skills to engage with civic leaders and policymakers on both sides of the aisle at the federal, state, and local level so their research and expertise could better inform public policy. Additionally, Pao was also the main point of contact for SSN's 30+ volunteer-led state and regional chapters, a major component of the organization's structure and theory of change.  
In 2019, Pao transitioned to the role of Managing Director for SSN. She now oversees the SSN staff's work with chapters, members, policymakers, civic leaders, and journalists. The Chapters and Membership, Communications, and Policy teams on staff report to her in order to better serve the organization's goal of helping scholars provide the research and evidence that will improve public policy and strengthen democracy.
Prior to SSN, Pao served for three years in the Massachusetts Legislature, most recently as the Legal Counsel for the Joint Committee on Revenue, where she focused on state fiscal policy and revenue reform. Before working on the committee, she assisted the constituents of Lexington, Woburn, and Arlington as state Representative Jay Kaufman's Legislative Aide.
Pao graduated from Bentley College in 2006 and Northeastern University School of Law in 2011. Through Northeastern's co-operative legal education program, she had the opportunity to experience four full-time legal internship positions. These included a judicial clerkship in San Juan, Puerto Rico; a summer associateship in a mid-sized Boston-based law firm; a legal internship in the Executive Office for Administration and Finance during Governor Deval Patrick's administration; and a legal internship in the Massachusetts Senate General Counsel's Office. It was through these experiences in that Pao developed an interest and gained experience in state government and fiscal policy issues.