1 Expert Available for Timely Analysis on Florida Abortion Case
Today the Florida state Supreme Court heard arguments in a case that challenges the state's 15-week abortion ban. If the law is upheld, a different measure will take effect outlawing abortions after six weeks. 
For reporters covering this case and its major implications, the following university-based expert is available to provide commentary and analysis.
University of South Florida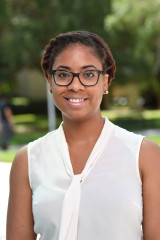 Logan is a public health researcher focused on health equity, reproductive justice, and improving sexual and reproductive health care throughout the reproductive life course for historically marginalized communities, particularly Black women. She is interested in using structurally informed frameworks to uncover the root causes of persistent inequities in sexual and reproductive health. Logan earned her PhD in public health with a concentration in Community and Family Health from the College of Public Health at the University of South Florida.