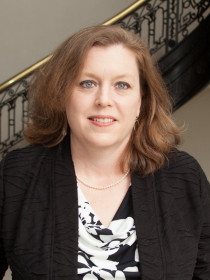 Kristin
Anne
Goss
Kevin D. Gorter Professor of Public Policy and Political Science, Duke University
About Kristin
Goss's research focuses on the role of social movements, interest groups, and philanthropy in advancing less-advantaged groups and shoring up democracy in the U.S. Particular areas of interest include elite donors' role in the policy process, gun politics and policy, women's organizations.
No Jargon Podcast
Publications
"
Indecision in Action
," (with ),
Duke University
,
2015
.
Investigates the political cohesion of millennial women using nationally representative survey data and qualitative interviews.
"
Defying the Odds on Gun Regulation: The Passage of Bipartisan Mental Health Laws across the States.
"
American Journal of Orthopsychiatry
85
, no.
3
(
2015
).
Documents an important exception to the conventional wisdom that politicians just will not tighten gun laws. Evaluates the barriers to enacting firearms regulations (of all sorts) in America. Reviews lawmaking at the nexus of mental health and firearms over the past decade. Provides an overview of the types of laws that have been enacted and the political circumstances that have facilitated their passage.
The Gun Debate: What Everyone Needs to Know
(with ) (
Oxford University Press, 2014
).
Probes the causes and consequences of gun violence and traces the history of clashing social movements pushing for gun rights and the enactment of legal gun controls.
The Paradox of Gender Equality: How American Women's Groups Gained and Lost Their Public Voice
(
University of Michigan Press, 2012
).
Traces a century of public policy advocacy by U.S. women's organizations to show that after women won the right to vote, women's groups gained clout on the national stage. Mass membership groups with broad agendas allowed women to address many public concerns and speak for the disadvantaged. But women's organizational presence declined – and "women's issues" narrowed – after the feminist victories of the 1960s and 1970s.
"
Research Service Learning: Making the Academy Relevant Again
" (with ).
Journal of Political Science Education
6
, no.
2
(
2010
):
117-141
.
Describes and evaluates a university-based program that combines community-based service with public policy research. Finds that providing even minimal exposure to such opportunities can whet students' appetite for engagement in the public sphere.
Disarmed: The Missing Movement for Gun Control in America
(
Princeton University Press, 2006, paperback 2009
).
Analyzes the strategic failures of gun control advocates, in the context of the overall waning effectiveness of progressive movements.