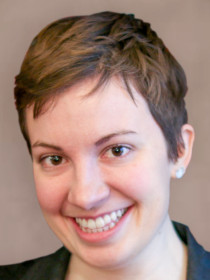 Lina
Mary Caroline
Stepick
Senior Researcher in Community Development, Federal Reserve Bank of San Francisco
About Lina
Stepick's research focuses on labor standards, low-wage work, affordable housing, and coalition organizing. They research unstable work scheduling practices, carework, and climate impacts on jobs and job quality.
Contributions
Larissa Petrucci

,

Lola Loustaunau

Ellen Kaye Scott
Publications
"
Valuing the Cause: A Theory of Authenticity in Social Movements
" (with ).
Mobilization
(
forthcoming
).
Distills two orthogonal types of authenticity in social movements: grassroots (in)authenticity, based on idealized notions of civil society, and institutional (in)authenticity, rooted in cultural-cognitive schemas used to judge fit with established SMO categories.