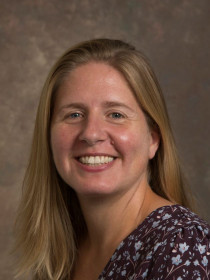 Sarah
Bruch
Assistant Professor of Sociology and Director, Social and Education Policy Program, Public Policy Center, University of Iowa
Connect with Sarah
About Sarah
Bruch's research focuses broadly on social stratification and public policy. In particular, she focuses on integrating theoretical insights from relational and social theorists into the empirical study of inequalities. She brings this approach to the study of social policy, education, race, politics, and citizenship. Her work has been published in leading academic journals including the American Sociological Review, Sociology of Education, Journal of Marriage and Family, and Child Development. Her current research includes three streams. The first focuses on U.S. social policies, examining their social and distributional impacts as well as their consequences for civic and political life. The second focuses on schools as organized sites of racialized authority relations that shape life trajectories and function as formative experiences of citizenship. The third focuses on the interplay of racial and economic inequalities, seeking to clarify how they relate to each other, how they are connected to state policy choices, and how they are produced through specific relational and policy mechanisms.
Publications
"
Learning Where We Stand: How School Experiences Matter for Civic Marginalization and Political Inequality
," (with ),
forthcoming
.
Argues that schools operate as sites where individuals have their first, formative experiences with the rules and cultures of public institutions, authority relations and their uses by officials, and what it means to be a member of a rights-and-obligations-bearing community of putative equals. Develops a novel account of how schools construct citizens and position them in the polity. Shows, first, how race (in conjunction with class and gender) structures experiences of school relations and, second, how these experiences matter for citizens' positions and dispositions in the polity.
"
Unanticipated Consequences of a Positive Parent-Child Relationship
" (with ).
Journal of Marriage and Family
72
(
2010
):
1377-1390
.
Uses data from the Texas Higher Education Opportunity Project and National Longitudinal Study of Adolescent Health to examine the associations between having a positive parent-child relationship and educational outcomes.
"
Caseworker Perceived Caregiver Substance Abuse and Child Protective Services Outcomes
" (with ).
Child Maltreatment
15
, no.
3
(
2010
):
199-210
.
Uses data from the National Survey of Child and Adolescent Well-Being to examine associations of child protective services (CPS) caseworkers' perceptions of caregiver substance abuse with their perceptions of the severity of risk and harm a child experienced as a result of alleged maltreatment, as well as with whether a family experienced a range of CPS outcomes.